Trump Attends Liberal Mainline Church to Reach Evangelicals?
Real Estate Mogul Hears Sermon on Syrian, Mexican Migrants, Admits 'Maybe It Was for Me'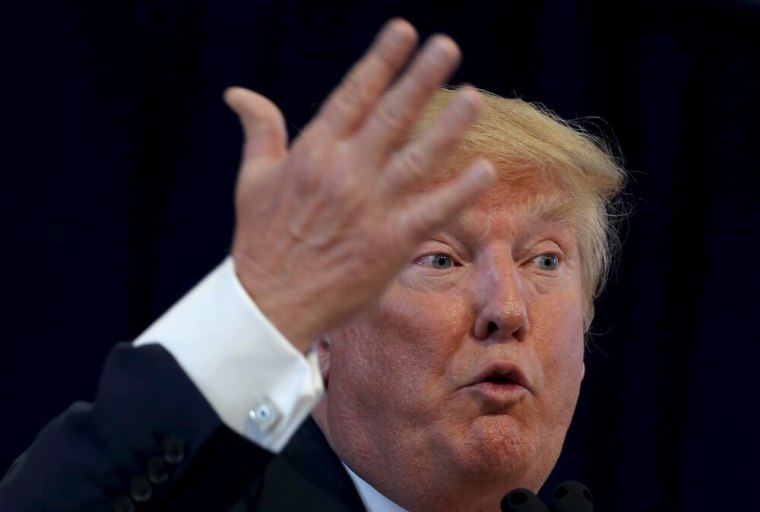 Donald Trump attended the Sunday church service of a liberal Mainline denomination in an apparent attempt at outreach to Iowa Evangelicals. The pastor gave a sermon on taking care of Syrian and Mexican migrants — a lecture which Trump admitted may have been aimed at him.
"Jesus is teaching us today that he has come for those who are outside of the church," the Rev Dr Pamela Saturnia of Muscataine's First Presbyterian Church said on Sunday, according to the Associated Press.
Saturnia called for healing and acceptance for "those who are the most unloved, the most discriminated against, the most forgotten in our community and in our world," citing both "the Syrian refugees" and "the Mexican migrants."
Trump admitted after the service that part of the sermon may have indeed been aimed at him.
"I don't know if that was aimed at me … perhaps," the Republican presidential frontrunner said.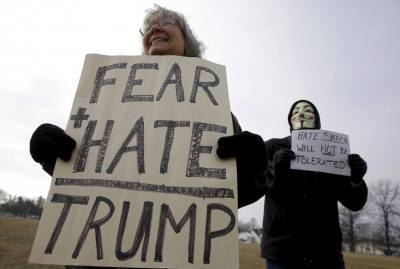 The billionaire businessman has called for tough border security and promised to erect a wall to keep illegal Mexican immigrants from coming to America if elected president. He has also called for a temporary ban on all Muslims from entering the United States, which drew major controversy and criticism both from the left and right of the political spectrum.
Rev. Dr. Geoff Tunnicliffe, chairman of Christian Media Corp International, said at the time that Trump's views do not align with how Christians are supposed to respond to the humanitarian crisis concerning refugees.
"To exhibit such xenophobic nationalistic attitudes directly contravenes the biblical concepts of loving our neighbor," Tunnicliffe said in December.
"Muslim people around the world need to know that Trump's views do not represent the vast majority of Christians. We believe in building bridges and not putting up walls. This is the way of Jesus. And we as His follower can be united in hearts to reflect His love to the world."
Trump has been trying to strengthen evangelical support for his campaign ahead of the primaries, notably with his speech at Liberty University in Virginia last week, but was criticized by some Liberty students for mistakes, such as referring to Second Corinthians in the Bible as "Two Corinthians."
"We're going to protect Christianity. I can say that. I don't have to be politically correct … Two Corinthians, 3:17, that's the whole ballgame … is that the one you like?" Trump said in his speech.
As Get Religion and other sources pointed out, another point of contention with Trump's outreach to Evangelicals was his choice for a church on Sunday. The event was described by political reporters as an outreach to Iowas Evangelicals. However, Muscataine's First Presbyterian Church belongs to the Presbyterian Church (U.S.A.) denomination, a liberal Mainline, not Evangelical, denomination that supports same-sex marriage.
Trump has insisted that he is a man of faith, specifically a Presbyterian, in several speeches throughout his campaign.
"Look, I don't have to say it, I'm Presbyterian. Can you believe it? Nobody believes I'm Presbyterian. I'm Presbyterian. I'm Presbyterian. I'm Presbyterian," he said at a campaign rally in Jacksonville, Florida, in October.
He has also compared his faith to other Republican rivals, such as Dr. Ben Carson, who is a Seventh Day Adventist.
"Boy, that's down the middle of the road folks, in all fairness," Trump said about his own faith.
"I mean, Seventh-day Adventist, I don't know about. I just don't know about," he added, speaking about Carson's denominational affiliation.