Trump Mocks Carson's Christian Conversion, Calls Him Scary Pathological Enigma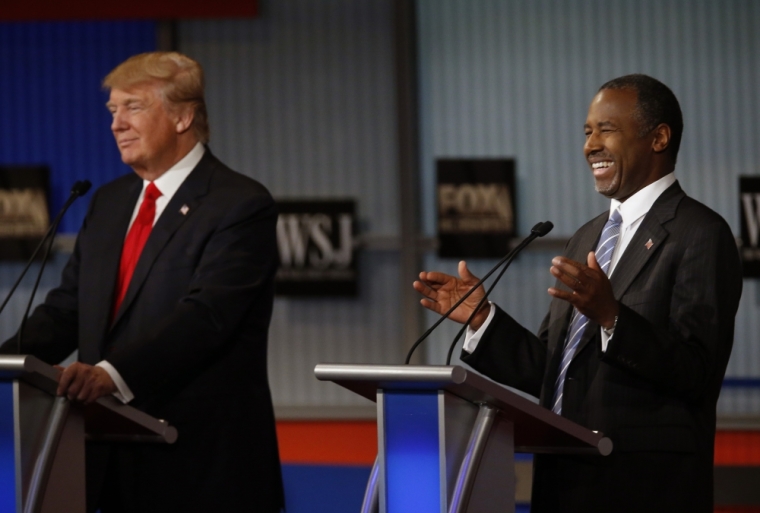 Real estate mogul and 2016 Republican presidential frontrunner Donald Trump openly mocked political rival Dr. Ben Carson's religious conversion and branded him a scary, pathological enigma voters would do well to stay clear of on Thursday.
"Carson's an enigma. He wrote a book and he's doing great in Iowa. He's second in the polls. With all these professional politicians, I'm first Carson's second and I don't understand it. I really don't understand it. Because he wrote a book and in the book he said terrible things about himself," Trump said in a YouTube clip from a 95-minute tirade at a rally in Fort George, Iowa.
"He said that he's pathological and he said he's basically got pathological disease. Now he wrote this, I guess, before he was running for office … and I don't want a person whose got pathological disease. I don't want it. I'm not saying he got it, he said it," Trump continued.
"He actually said pathological temper and then he defined it as disease. Now if you're pathological there's no cure for that folks," he said.
Trump then repeated a criticism of Carson he made earlier that morning during an interview with Erin Burnett on CNN pointing out that in his book, Gifted Hands, Carson wrote that "he's got a pathological temper. That's a big problem, because you don't cure that."
He pointed out attacks Carson made on his mother with a hammer and a knife on a friend that Carson later revealed was a "close family member."
"I'm not bringing up anything that's not in his book," Trump continued. "You know, when he says he went after his mother and wanted to hit her in the head with a hammer, that bothers me. I mean, that's pretty bad. When he says he's pathological — and he says that in the book, I don't say that — and again, I'm not saying anything, I'm not saying anything other than pathological is a very serious disease. And he said he's pathological, somebody said he has pathological disease."
Trump then openly wondered why Carson was doing so well with everything he has admitted to in his life.
"How stupid are the people of Iowa? How stupid are the people of this country to believe this crap? … He's now saying that all of that stuff happened, because otherwise he's a liar," added Trump, who went on to mock Carson's account of his religious conversion.
"What he's saying is that these series of events ... and he goes into the bathroom for a couple of hours and he comes out, and now he's religious and the people of Iowa believe him. Give me a break," Trump said with disdain. "It doesn't happen that way. It doesn't happen that way. Don't be fools."
With less than three months to go before the Iowa caucuses, Republican elites have become increasingly concerned about the dominance and durability of both Trump and Carson in the presidential race, according to The Washington Post.
Both donors and party leaders fear the nomination of either candidate will ensure a Hillary Clinton presidency and increase the chances of the Democrats becoming a majority in the Senate.
WATCH TRUMP'S TIRADE BELOW: