Trump Now Admits He Paid Porn Star to Keep Quiet About Alleged Affair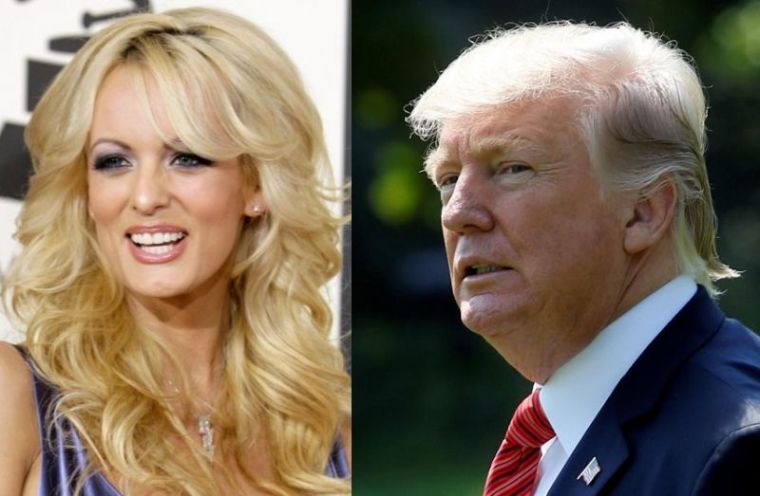 President Donald Trump confirmed Thursday morning that he paid a porn star to keep quiet about an alleged affair just weeks before the 2016 election, while also claiming the affair never happened. 
Former New York City Mayor and newly appointed lawyer for President Donald Trump Rudy Giuliani revealed Wednesday night that the president reimbursed the $130,000 used by his personal lawyer Michael Cohen to pay adult film star Stormy Daniels to keep quiet about an alleged affair. Trump had previously denied knowing about the payoff.
The payment was made in the days leading up to the 2016 election to silence allegations of a 2006 sexual affair between Trump and Daniels.
"He didn't know about the specifics of it, as far as I know. But he did know about the general arrangement, that Michael would take care of things like this. Like, I take care of this with my clients. I don't burden them with every single thing that comes along. These are busy people," Giuliani revealed in an interview with Sean Hannity of Fox News.
The revelation was stunning to many, as the president had denied knowledge of the payment last month.
Thursday morning, Guiliani told The New York Times that Trump knew what he was going to tell Hannity and the disclosure was planned ahead of time. Trump further backed Guiliani in a series of Thursday morning tweets. 
Giuliani said in a later interview with The Washington Post that when Cohen made the payment to Daniels, he knew he would eventually get paid back by Trump, as he was for other expenses. He said Trump made the reimbursement in a series of transactions after the election and believes they were completed in 2017. A reimbursement he said could also have been made in 2018.
"The president was always going to make sure he got it back, and enough money to pay the taxes," Giuliani told The Washington Post. "There probably were other things of a personal nature that Michael took care of for which the president would have always trusted him as his lawyer . . . and that was paid back out of the rest of the money, and Michael earned a fee out of it."
He further explained that he wasn't certain when the president knew about the exact nature of the payment to Daniels but many of the details about the transaction were not clear to him until the last two weeks after the FBI raided Cohen's home and office.
"I don't know if he distinguished it from other things Cohen might have done for him during the campaign," Giuliani said. "He trusted Michael, and Michael trusted him."
Reacting to Giuliani's statement in a series of tweets Thursday morning, President Trump acknowledged that he paid the hush money while insisting that the affair never happened and no campaign finance laws had been broken.
"Mr. Cohen, an attorney, received a monthly retainer, not from the campaign and having nothing to do with the campaign, from which he entered into, through reimbursement, a private contract between two parties, known as a non-disclosure agreement, or NDA. These agreements are very common among celebrities and people of wealth," Trump said.
"In this case it is in full force and effect and will be used in Arbitration for damages against Ms. Clifford (Daniels). The agreement was used to stop the false and extortionist accusations made by her about an affair, despite already having signed a detailed letter admitting that there was no affair. Prior to its violation by Ms. Clifford and her attorney, this was a private agreement. Money from the campaign, or campaign contributions, played no roll in this transaction," the president's comments on the matter ended.
White House Press Secretary Sarah Huckabee-Sanders who said in March that there was "no knowledge of any payments" also had a different response when pressed by reporters on Thursday.
"This is something we at the White House can't comment on, and I would refer you to [Giuliani's] comments and the president's tweets from earlier this morning," she said.
Thursday morning, George Conway, a lawyer, husband of White House counselor Kellyanne Conway and frequent Trump critic, tweeted a relevent section of Federal Election Committee rules regarding campaign finance. The section says that personal funds used to benefit a campaign are subject to campaign finance disclosure rules, appearing to support the claim that the porn star hush money violated campaign finance law.