Trump vs. Obama Refugee Ban: 9 Things You Need to Know
4. Trump's order provides an exception for religious minorities.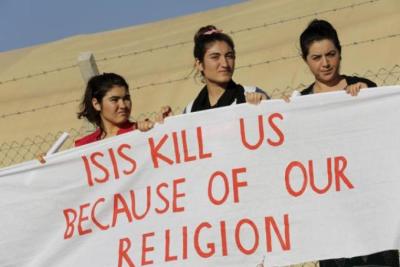 The language of Trump's executive order suggests that exemptions to the executive order can be granted to persecuted religious minorities. However, it remains to be seen how that language will exactly play out.
According to the language, the Secretaries of State and Homeland Security must "jointly determine to admit individuals" as long as it is determined that the individuals are a "religious minority in his country of nationality facing religious persecution."
However, Soerens explained that the way the language is written leads him and the attorneys he consulted with to believe that the exemption doesn't apply to Syrian refugees or refugees from the other seven countries listed in Trump's 90-day travel ban.
"At this point, we have been told by the State Department that they don't have any guidance on how to process [the exemptions]," Soerens said. "They are not pursuing that, or at this point, they don't have any guidance on if there would be anyone allowed in under that exception."
"They way I read it, and according to the lawyers I have talked to, it only applies to the 120-day moratorium on all refugee resettlement, not on the explicit ban on Syrian refugees nor to the ban on those seven countries, not just refugees but all immigration," he continued.
Soerens added that the way the order is written, not even Congolese Christians would qualify for the exemption because they are not a religious minority.
"For example, the Congolese are persecuted and they are Christians, but they are not persecuted as religious minorities," he explained. "It is ethnic and political persecution in a majority-Christian country."