Trump Has 'Same Tendencies' as 'Erratic Leader' Kim Jong Un, Sen. Bob Corker Says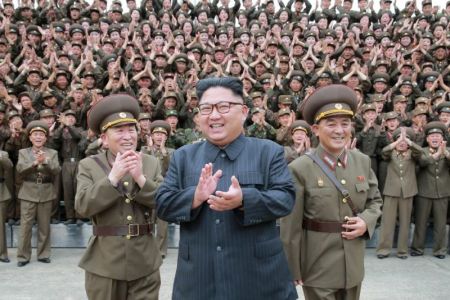 During an interview with CBS News' "Face the Nation," GOP Sen. Bob Corker said President Donald Trump is exhibiting some of the same tendencies as the "erratic leader" of North Korea in dealing with the ongoing tensions with that country.
Corker, chair of the Senate Committee on Foreign Relations, was asked by host John Dickerson why he criticizes President Trump's policy on North Korea. The senator said the State Department and the secretary of State are mandated to "exercise full diplomacy to keep our men and women in uniform out of harm's way."
But, Corker added, "when our secretary of State is sitting down with a partner that matters most, China, trying to negotiate something that would resolve and keep us from going into military conflict with North Korea which brings in South Korea, Japan, China, and Russia, and he's knee-capped by the president, it hurts our nation."
He continued, "It hurts our efforts. It leads us more fully towards the conflict that most of us would like to see resolved in another way."
Corker pointed out that the tweets that are sent out "mocking a leader of another country raises tensions in the region," and added, "And so if people are sitting there, they know they've got an erratic leader in North Korea, they've lived with three erratic leaders. Actually this is the third one."
The senator went on to say that "when we start exhibiting some of those same tendencies, it creates an air that leads again more fully towards conflict."
Corker concluded that the efforts being made by Secretary Rex Tillerson and Defense Secretary Jim Mattis in resolving tensions with North Korea need to be supported.
Corker and Trump have engaged in a public fued in recent weeks, mostly on Twitter. On Oct. 8, after Trump denounced Corker in a series of tweets, Corker responded by tweeting that "the White House has become an adult day care center." 
In July, North Korea claimed another successful test of an intercontinental ballistic missile to show its ability to strike the United States.
Trump issued a statement, saying, "By threatening the world, these weapons and tests further isolate North Korea, weaken its economy, and deprive its people. The United States will take all necessary steps to ensure the security of the American homeland and protect our allies in the region."
The U.N. Security Council slapped new sanctions on North Korea over its nuclear weapons program, restricting that country's exports of coal, iron, iron ore, lead, lead ore and seafood as well as limits on the number of North Koreans permitted to work abroad. The sanctions also restrict countries from entering into new joint ventures with North Korea or investing in current ones. Further, the resolution added North Korea's primary foreign exchange bank and other entities as well as nine people to the U.N. blacklist.
Western experts said the missile could have been capable of reaching as far into the country as Denver and Chicago.
North Korean leader Kim Jong-un threatened to "bury the U.S. underwater," warning America against using military force to stop its nuclear program. Trump warned North Korea it "will be met with fire and fury" if it threatens the U.S.