Donald Trump to create his own social media platform: 'Completely redefine the game'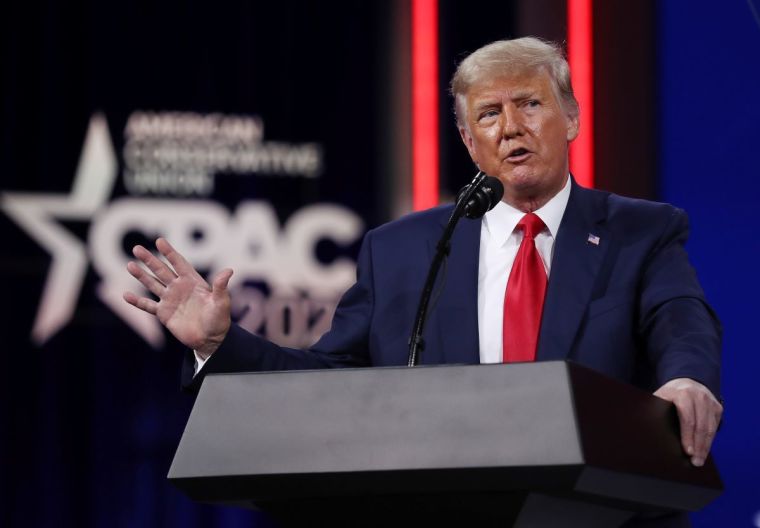 Months after he was booted from several social media sites, former President Donald Trump has announced plans to create his own social media platform.
The former president briefly signaled his intention to create a new social media platform during an appearance on the newly launched podcast "The Truth With Lisa Boothe" Monday. 
"I'm doing things having to do with putting our own platform out there that you'll be hearing about soon," Trump told the Fox News contributor.  
While Boothe expressed a desire to learn more about his plans, Trump vowed to disclose more information "pretty soon."
Trump adviser Jason Miller first mentioned the plans during an appearance on Fox News' "Media Buzz" Sunday. 
Host Howard Kurtz noted that Trump had been "booted off Twitter and Facebook and Instagram, which were a great megaphone for him." Kurtz asked, "Does he plan to try to get back on social media, perhaps with some new outfit?"
Miller answered in the affirmative.
"I do think that we're going to see President Trump returning to social media in probably about two or three months here, with his own platform. And this is something that I think will be the … hottest ticket in social media," Miller said. "It's going to completely redefine the game, and everybody is going to be waiting and watching to see what exactly President Trump does. But it will be his own platform."
Kurtz asked if Trump is "working with another company" to create the platform. Miller told the media analyst that "I can't go much further than what I was able to just share."
"But I can say that it will be big once he starts," the adviser said. 
"There have been a lot of high-powered meetings he's been having at Mar-a-Lago with some teams of folks who have been coming in," he continued. "It's not just one company that's approached the president. There have been numerous companies. But I think the president does know what direction that he wants to head here, and this new platform is going to be big, and everyone wants him. He's going to bring millions and millions, tens of millions of people to this new platform."
Trump was permanently suspended from Twitter and indefinitely suspended from Facebook following the Jan. 6 Capitol riot, where a group of his supporters vandalized the U.S. Capitol Building as Congress was certifying the results of the 2020 presidential election. 
Throughout his 2016 presidential campaign and his entire presidency, Trump used social media as his primary mode of communication with his supporters and the American people as a whole.
The former president hinted at creating his own social media platform in early January, shortly after the aforementioned social media sites removed his account. 
In the final days of his presidency, Trump used his @POTUS account, now controlled by his successor Joe Biden, to send out tweets. In one such tweet, the former president suggested that he would "look at the possibilities of building out our own platform in the near future."
The former president is not the only notable conservative who has faced banishment from social media to announce intentions to create an alternative social media platform. 
MyPillow CEO Mike Lindell, an outspoken Trump supporter who was banned from mainstream social media sites over his claims of targeted election fraud, used his March 5 appearance on "The Charlie Kirk Show" podcast to tout his own social media platform.
According to Lindell, the platform will enable "all the influencers in the country" to "be able to talk and … not walk on eggshells." 
In addition to censoring Trump and Lindell, establishment social media companies have also silenced those with unpopular views on LGBT issues. 
A Christian professor was banned from Facebook for opposing Biden's policy allowing transgender individuals to serve in the military. Twitter suspended a Christian magazine for pointing out that Dr. Rachel Levine, Biden's trans-identified nominee to serve as Assistant Secretary of Health, is biologically a man. 
This censorship has led to an increased demand for alternative options for conservatives looking to express their ideas. Other emerging alternative social media platforms include CloutHub, Parler and USA.Life.