Trump Victory Puts Pro-Life Movement In 'Strongest Position' Since Roe v. Wade, SBA List Pres. Says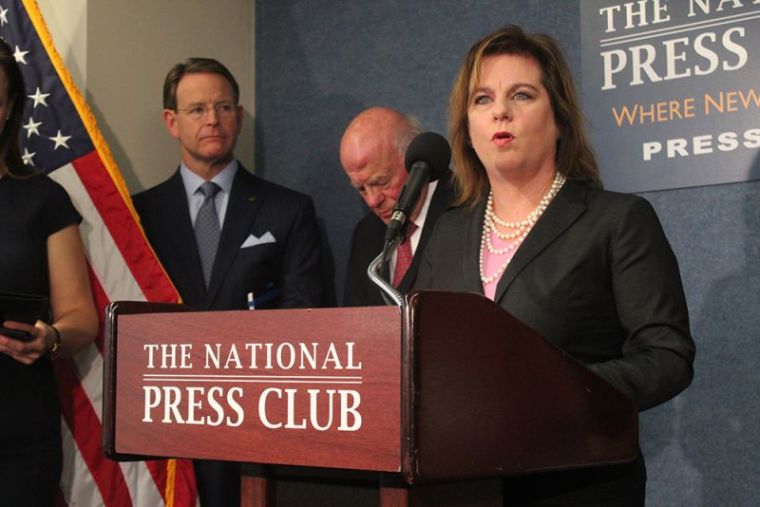 WASHINGTON — Donald Trump's victory in the 2016 presidential election sets up the pro-life movement with its best political positioning since before the United States Supreme Court nationally legalized abortion in 1973, one of Washington D.C.'s most prominent pro-life activists said Wednesday.
Susan B. Anthony List President Marjorie Dannenfelser told reporters at the National Press Club on Wednesday that Trump's victory over Democratic nominee Hillary Clinton means that the "perfect lineup" will be in place to finally pass common sense abortion legislation and legislation defunding America's largest abortion provider without having to worry about a veto from a Democratic president.
Although Trump has said in the past that he is pro-choice, Trump has campaigned on the promise that he is pro-life and has vowed to support the "Pain-Capable" 20-week abortion ban and the stripping of over $500 million in annual tax dollars from abortion giant Planned Parenthood, which was a measure passed by the Republican-led Congress earlier this year but was vetoed by President Barack Obama.
Additionally, Trump has vowed to support an effort to make the Hyde Amendment, a restriction attached yearly to appropriations bills that prevents taxpayer dollars from being used for abortion, a permanent law.
"The pro-life movement is in the strongest position that it has been in over 40 years since Roe vs. Wade," Dannenfelser said. "This election has delivered a very powerful punch and along with that has delivered a very strong mandate to finally allow the real consensus in this nation to be enacted into law."
"We are poised to make the biggest legislative advances for the protection of unborn children since Roe vs. Wade," she continued. "What do I mean? We are teed up to defund Planned Parenthood. The House, Senate last time made it to the president's office but had the wrong president. So of course, he didn't sign it. We have all that we need now because we have got the perfect lineup."
Trump's election combined with the fact that the GOP maintained control of the House and Senate marks the first time since 1928 that the Republican Party holds control of the Senate, House and White House at the same time.
Evangelical conservative activist Richard Viguerie, who also spoke to reporters at the National Press Club on Wednesday, proclaimed that now there is "no excuse" for Republicans not to pass key conservative bills, such as the defunding of Planned Parenthood.
Viguerie said that in his 50 years experience in national politics Republicans have always come up with the excuse that since they don't have control of the House, Senate and White House they can't possibly pass certain conservative and pro-life measures.
"Now, there is no excuse not to go out there and defund Planned Parenthood and all the other left-wing organizations that are getting every year billions and billions of dollars in taxpayer funding to advance their left wing agenda," Viguerie asserted.
Dannenfelser explained that the pro-life movement employed its largest grassroots ground effort ever during the 2016 election cycle. She said that pro-life canvassers encouraged over 1.2 million people in key battleground states like Florida, North Carolina, Ohio and Missouri to vote for Trump and other pro-life candidates.
"The power of the grassroots, I believe, is the big story," she said. "The power of the pro-life movement on the ground has been the big sleeping giant over the last four years and it culminated in enormous win in the battleground states and states with tight Senate races."
"This kind of impact and change in the pro-life movement is a long time coming," she added. "What do I mean? I mean that elections lead to legislation that leads to elections that leads to legislation. That has been what is missing for so many years. That's what we have now. That is why we are poised to believe all the very specific promises that Donald Trump made and, along with the leadership in the House and the Senate, make sure that these promises become real and that work will be a pleasure."
While some evangelicals and social conservatives were skeptical of casting their vote for the thrice-married real estate mogul, Family Research Council president Tony Perkins, who also spoke with the media Wednesday, said that Trump did a great job of removing any doubt in the minds of evangelicals when he eloquently explained the violent reality of what partial-birth abortions are and put pressure on Clinton to defend her unpopular abortion position on the debate stage.
A Marist poll from earlier this year found that Clinton's views on abortion are out of touch with the majority of the American population, as 81 percent of Americans and 66 percent of abortion supporters believe abortion should be banned after the first trimester of pregnancy.
"The point at which Donald Trump closed the deal with evangelicals was at the last debate in the first 15 minutes when he gave the most concise definition of late-term abortion that any Republican or any presidential candidate with a nomination in the general election has given and following up by stating that he would appoint pro-life justices," Perkins said. "We have not had Republicans willing to do that, saying they feared a litmus test."
"That was when the deal was closed. That was when evangelicals were confronted with the reality that they have a candidate that had met all the criteria," he continued. "He picked pro-life running mate and unlike previous nominees, did not fight conservatives over the platform."