Trump White House Has 'Lot of Chaos ... Reality TV Circus,' Ben Sasse Says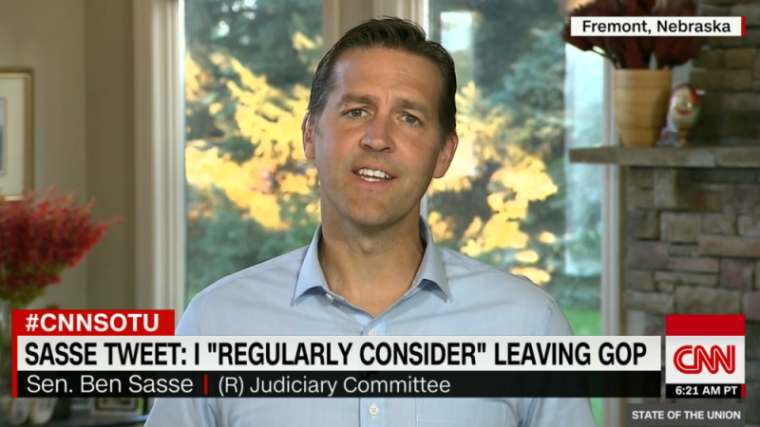 U.S. Sen. Ben Sasse, R-Neb., described the President Donald Trump White House as chaotic and circus-like.
"I think it's pretty obvious," he told CNN's Jake Tapper Sunday, "when you are engaging the White House, as I do many, many times a week, that there's just a lot of chaos and a lot of reality TV circus."
The internal workings of the Trump White House has often been described as chaotic by insiders and journalists who cover it. Last week, that description came in a book by Washington Post veteran journalist Bob Woodward, Fear: Trump in the White House, and a New York Times op-ed by an unnamed White House insider dubbed "anonymous."
According to the Woodward book, White House Chief of Staff John Kelly said of Trump: "He's an idiot. It's pointless to try to convince him of anything. He's gone off the rails. We're in crazytown." Kelly denied calling Trump an idiot but has not specifically denied the rest of the quote.
Similarly, anonymous wrote, "Meetings with [Trump] veer off topic and off the rails, he engages in repetitive rants, and his impulsiveness results in half-baked, ill-informed and occasionally reckless decisions that have to be walked back."
Sasse, a longtime critic of Trump who didn't vote for him, tweeted last week that he regularly considers leaving the Republican Party. Sasse reiterated that point in his interview with Tapper, saying, "I probably think about it every morning ...."
"I conceive of myself as an independent conservative who caucuses with the Republicans. But, frankly, neither of these parties have a long-term vision for the future of the country," Sasse said.
Both political parties need a "future focused vision," Sasse argued, rather than "screaming at each other" and focused on opposing each others' agenda.
While acknowledging that "the president has done some good things," Sasse argued that Trump isn't thinking about what is good for the country long term.
When asked about "anonymous," Sasse said, "obviously, it's an impulsive White House, right? I mean, there are a lot of really good people around the president. He has done a good job, frankly, in a lot of the people that he's hired, but I think they'd like to be focused on a long-term agenda.
"I think Donald Trump, in the campaign of 2015-2016, was obviously right that Washington, D.C., doesn't work and does need to be disrupted. But then the question is, the disruption toward what end?"
Among Trump critics, a frequent critique of Sasse is that says the right things but doesn't do enough beyond talking. When asked about that, Sasse noted that a bill he co-authored on cyber-security recently got passed.
Plus, he added, "Frankly, in a democracy, one of the most basic, most important things we do is, we talk together about who we are as a people. Basic civic norms, deliberation and dialogue, reflection on universal human dignity and why the First Amendment is the beating heart of American life, those are all ways of saying we talk, so that we don't have violence as the way to figure out how to use the levers of government power. So, if we're not talking together about who we are as a people, we're going to lose a republic."
When asked if electing Trump has been worthwhile for Republicans, given the tax cuts, deregulation, and two Supreme Court picks, Sasse answered, "No, I'm arguing that the 2016 election was a dumpster fire, and that both of these candidates went into the election mostly being against the other one, and the American people basically said, pox on all your houses. And then they decided who to vote for that was the less bad, in their view. And we shouldn't be having elections like that in the future. We should have two good parties that have a long-term vision for the country, competing to be better than the other one, not competing to be less bad or better at the quick putdown on Twitter.
"And so I think that, again, President Trump has done a bunch of good things. The deregulation packages he's put through, the judicial nominees have been really good. But as far as focusing the country on a long-term agenda around the future of work and the future of war and helping kids understand the First Amendment again ... we're not focused on any of those things. And they're more important than the day-to-day legislating we are doing."
Trump has claimed the Woodward book is based upon false reporting with made-up quotes.
"The Woodward book is a scam. I don't talk the way I am quoted. If I did I would not have been elected President. These quotes were made up. The author uses every trick in the book to demean and belittle. I wish the people could see the real facts - and our country is doing GREAT!" he tweeted Friday.
Regarding anonymous, Trump has suggested the person may not exist, and if they do exist their actions could be illegal and treasonous.
"Does the so-called "Senior Administration Official" really exist, or is it just the Failing New York Times with another phony source? If the GUTLESS anonymous person does indeed exist, the Times must, for National Security purposes, turn him/her over to government at once!" he tweeted Wednesday.