Trump's Ag Sec. Sonny Perdue Defends Religious Freedom 'Undermined' by Obama's Policies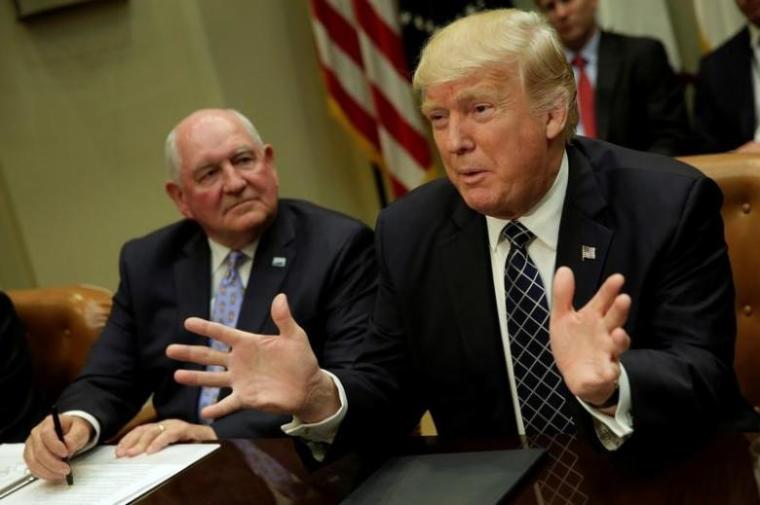 A week after President Donald Trump signed an executive order defending religious liberty, Agriculture Secretary Sonny Perdue issued a new policy statement to reestablish the "Department's commitment to safeguarding every American's First Amendment rights, particularly the right to free speech and the right to free religious exercise."
"I expect each and every USDA employee to uphold their fellow Americans' First Amendment freedoms," states Perdue, the first cabinet secretary to issue his own policy statement in support of religious freedom since Trump's executive order.
"Whether we are inspecting private businesses for compliance with food safety laws or protecting our public lands for recreation, cultivation, and preservation, we must set the example of our nation's highest ideals. Doing so is not optional, and it is not discretionary: It is one of the crucial reasons why we exist," the statement continues.
Family Research Council President Tony Perkins praised the secretary.
"It is refreshing to have a president and administration that recognizes and understands the dangers of the anti-faith policies of the previous administration and are therefore committed to undo those policies and restoring true religious freedom," Perkins said in a statement. "No American — Christian or otherwise — should have to choose between their careers and their faith."
Freedom of expression "flourishes in a climate of mutual respect and tolerance," reads Perdue's policy statement. "To that end, USDA will continue to uproot and eliminate discrimination, harassment, and retaliation and ensure our employees and customers work in an atmosphere of dignity and equality — a place where the rules are known, respected, and fair to all."
That's "one of my primary goals as secretary," Perdue says.
"Under the last administration, the commitment to religious freedom was sorely lacking, and often undermined by regulations and guidelines across much of the government, including the USDA," Perkins said, referring to the Vander Boon family, who own a Michigan meat packing facility and were warned by the USDA 18 months ago that their business would be shut down if they placed religious material concerning marriage in the breakroom of the business.
However, Trump's executive order "made the important clarification of current laws that religious freedoms extend to the public square, not just one's place of worship," Perkins noted. "The order is now beginning to make its way through the Department of Agriculture and all the federal government agencies."
Perkins added that he is "very optimistic that the Vander Boon's complaint against the USDA will be resolved in a positive manner that fully respects the First Amendment."
Trump's order proclaimed that his administration will "vigorously enforce federal law's robust protections for religious freedom," instructing the IRS to relax enforcement of the Johnson Amendment on churches and instructing the Department of Health and Human Services to "consider" giving exemptions to religious objectors to Obamacare's controversial contraceptive mandate.
Section 4 calls on the Department of Justice to "issue guidance interpreting religious liberty protections in federal law" in order to "guide all agencies in complying with relevant federal law," First Liberty Institute lawyer Mike Berry earlier told The Christian Post. Although the order doesn't directly reverse any specific Obama-era policies or create any new regulations, Berry believes Section 4 will allow the Justice Department to begin "scrubbing" Obama-era regulations that have caused religious liberty concerns.