Turkey Remands Andrew Brunson Back to Prison Until October After Third Hearing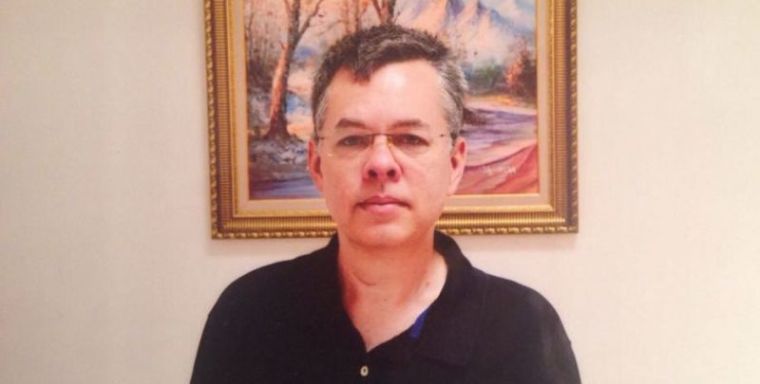 A Turkish court remanded American pastor Andrew Brunson back to prison on Wednesday until his next court hearing on Oct. 12 despite earlier reports suggesting that the Presbyterian pastor could be released after nearly two years in prison.
Brunson, a North Carolina native who has served as a pastor of Izmir Resurrection Church for over two decades and has been imprisoned since October 2016, appeared for his third court hearing after being indicted on terrorism charges and accused of having connections to a terror network blamed for organizing the July 2016 coup attempt against the Erdogan government.
Brunson faces up to 35 years in prison and has denied the charges, which also includes having connections to militants with the Kurdistan Workers Party. Human rights activists and U.S. lawmakers have long blasted the allegations as baseless.
Pastor Bill Devlin from Infinity Bible Church in New York City traveled to Aliaga for the hearing. He told The Christian Post that the prosecution brought forward three "false witnesses" who didn't offer any firsthand information about accusations that Brunson had "terrorist propaganda" or a Kurdish flag in his church in Izmir.
"It is all second and thirdhand," Devlin said of the testimonies.
According to Devlin, a pastor and a woman were allowed to testify in defense of Brunson. Devlin said that the pastor told the court that Brunson has denounced terrorism and never had any connections with the PKK or Islamic cleric Fethullah Gulen, who currently lives in Pennsylvania.
As Turkey has reportedly accused Brunson and American churches of conspiring with U.S. intelligence agencies to undermine Turkish sovereignty, Devlin said that the pastor also vouched that Brunson has no connection to the CIA or any other intelligence agency.
"There are these conspiracy theories as deep as the Pacific Ocean," Devlin stated.
"Brunson's Istanbul attorney, [Ismail Cem Halavurt], said [during the hearing] that all of the evidence that has been presented by these witnesses against Bruson is false and it's all lies and there is nothing to substantiate it. Then the lawyer went on to say to the presiding judge that there is no reason why Pastor Brunson should continue to be held."
The hearing began around 10 a.m. and it wasn't until about 3:30 p.m. that the presiding judge announced that Brunson would continue to be held until a continuation of the trial on Oct. 12.
"Everybody just walked out of the court shaking their heads," Devlin detailed. "Why does this continue to go on?"
According to Reuters, Brunson, who appeared in a black suit and tie, told the court that it is hard for him to be separated from his wife, Norine, and children. Although he proclaims his innocence, Brunson asserted that it is his "turn" to suffer in the name of Christ.
"There is no concrete evidence against me. The disciples of Jesus suffered in his name, now it is my turn," the 50-year-old pastor was quoted as saying in Turkish. "I am an innocent man on all these charges. I reject them. I know why I am here. I am here to suffer in Jesus' name."
Also in attendance was Kristina Arriaga, vice chair of the U.S. Commission on International Religious Freedom. USCIRF has been vocal in calling for the Turkish government to release Brunson.
"The government of Turkey continues to make a mockery of justice in its treatment of Pastor Brunson," Arriaga said in a statement. "Today I was hoping to see the judge order his complete release and put an end to the miscarriage of justice that Pastor Brunson's entire case represents."
Arriaga stated that the Turkish government hasn't provided "one good reason" for why they continue to keep Bruson jailed.
"The Trump Administration and the Congress should continue to apply pressure, including using targeted sanctions against officials connected to this case, until Pastor Brunson is released," Arriaga urged.
President Recep Tayyip Erdoğan has previously hinted that Brunson could be released if the U.S. would extradite Gulen, which has led many to believe that Brunson is just a political hostage.
Brunson is affiliated with the Evangelical Presbyterian Church.
Bill Campbell, pastor of Presbyterian church in Hendersonville, North Carolina, also attended the hearing.
"As usual, there was much spurious testimony against Andrew," Campbell wrote in a text message following the hearing. "Andrew's testimony was absolutely powerful. He presented the gospel with confidence and defended himself with boldness."
"The court allowed a favorable witness ... and one who was to speak against him actually spoke in Andrew's favor," Campbell added. "It felt like they had decided the outcome before the trial."
Devlin feels that there should have been more pastors from the EPC show up to support Brunson during the trial.
"I think that the Evangelical Presbyterian Church needs to step up," he said. "Imagine if we had 50 pastors in the courtroom and then we went to Ankara and asked for a meeting with the president because other things don't seem to be working."
Over 580,000 people have signed an online petition started by the American Center for Law and Justice, calling for Brunson's release.
In April, a bipartisan group of 66 senators signed a letter to Erdogan, urging him to release Brunson.
Sens. Lindsey Graham, R-S.C., and Sen. Jeanne Shaheen, D-N.H, recently met with Erdogan in Ankara to press for Brunson's release. 
"We have real differences, but far more in common," Graham wrote in a tweet. "Turkey needs to be a strategic partner for the U.S. in a win-win fashion."