Female TV Host Defends Ben Affleck's Obsessive Groping, Sexual Behavior in 2004 Interview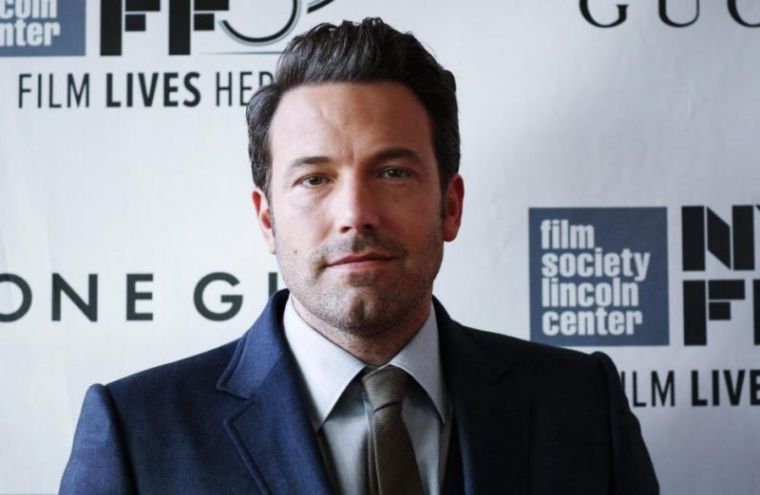 A Canadian TV host is coming to Ben Affleck's defense after a video showing him obsessively groping her during an interview resurfaced on the internet Wednesday.
In an interview to promote Affleck's 2004 film "Jersey Girl," the now 45-year-old actor is seen fondling Canadian television host Anne-Marie Losique on the show "Box-Office." [Warning: this video contains graphic and offensive content.]
Losique sits on Affleck's lap while he suggests that she do the interview topless. The television personality laughs through the interview as Affleck continues to make sexually suggestive comments, such as insisting that she's promiscuous while he fondles her breasts. "In church, you should have that rack on display," he says.
Losique, however, is speaking out in defense of Affleck's behavior and insists that the pair were putting on a show for the camera.
"This was for the camera. You have to understand that we have done dozens and dozens of interviews like that," Losique told The Hollywood Reporter on Wednesday. "It was for a show I was producing, so I was not at all a victim. When the cameras rolled, we would start to do that game."
Losique said she wasn't thrilled that the video was being viewed by the media and public as another example of sexual harassment in light of recent allegations of predatory behavior by movie executive Harvey Weinstein, and called Affleck respectful.
"As soon as it stopped rolling, there was none of that," she said. "He never touched me in any improper way. He was very respectful, I must say."
However, another TV host says Affleck did act inappropriately on the set of her MTV show just one year earlier. Hilarie Burton, the "Lethal Weapon" actress who got her big break as a teenager on MTV's "Total Request Live," previously revealed that Affleck had groped her when he was on the show in 2003.
What began as Affleck speaking out against Weinstein, his longtime collaborator and Hollywood film executive whose alleged sexual assaults were reported on by The New York Times last week — after the news organization reportedly spiked the story in 2004 — subsequently led to the actor apologizing for his own inappropriate behavior.
After Affleck posted a lengthy Facebook message about his anger concerning Weinstein's alleged rape and sexual harassment, a number of people condemned the actor on social media for his own treatment of young women.
One person tweeted about Affleck's behavior toward Burton, which prompted the actress who rose to popularity on the CW series "One Tree Hill" to respond.
When the fan tweeted that everyone forgot about Affleck groping Burton, the actress responded, "I didn't forget." Another fan added a video of the incident to the thread which Burton can be seen laughing in.
She explained that the laughter in the moment was masking the real emotions she felt.
"I had to laugh back then so I wouldn't cry," Burton wrote in the Twitter thread which also included her telling a fan, "Seriously, thank you for that. I was a kid."
Affleck then took to Twitter to apologize to Burton for his behavior.
"I acted inappropriately toward Ms. Burton and I sincerely apologize," he wrote Wednesday.
The actor's apology comes one day after he condemned Weinstein's reported sexual assault and harassment of more than a dozen women and the rape of three others.
"I am saddened and angry that a man who I worked with used his position of power to intimidate, sexually harass and manipulate many women over decades. The additional allegations of assault that I read this morning made me sick," Affleck wrote on Facebook Tuesday. "This is completely unacceptable, and I find myself asking what I can do to make sure this doesn't happen to others. We must support those who come forward, condemn this type of behavior when we see it and help ensure there are more women in positions of power."
However, actress Rose McGowan insisted that Affleck was lying and knew about an incident in which she was a victim of Weinstein's sexual misconduct.
"'@benaffleck.. I TOLD HIM STOP DOING THAT' you said that to my face. The press con I was made to go to after assault," McGowan wrote Affleck on Twitter. "You lie."
Affleck has yet to publicly respond to McGowan's comment.