Twitter Censors Blackburn Senate Ad Criticizing Planned Parenthood's Selling of Baby Body Parts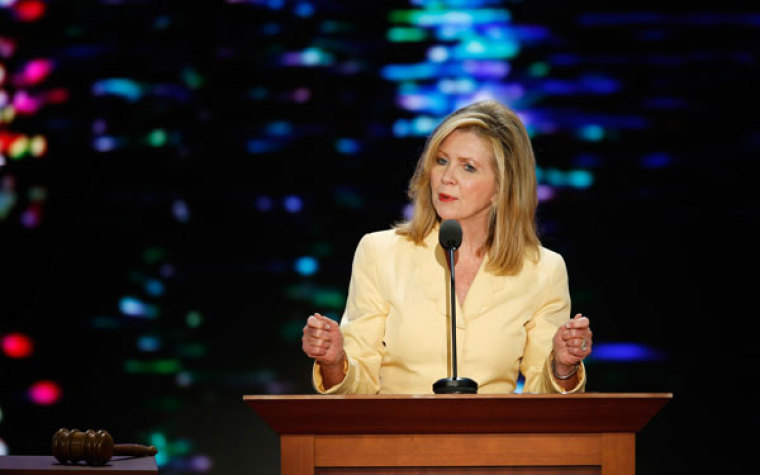 Twitter is suppressing a video from a Republican Senate candidate for mentioning Planned Parenthood's selling of baby body parts and her role in stopping it, calling it "inflammatory." Pro-lifers and conservatives are pushing back.
Rep. Marsha Blackburn, who represents Tennessee's 7th Congressional district in the House and is running to fill the Senate seat being vacated by Bob Corker, who is retiring in 2018, put out an introductory campaign ad wherein she described her pro-life advocacy, noting: "I fought Planned Parenthood and we stopped the sale of baby body parts. Thank God."
The social media giant dubbed that particular line "inflammatory" and "likely to evoke a strong negative reaction," and refused to allow the ad, according to Politico Monday. A Twitter representative emailed Targeted Victory, a digital GOP consulting firm working for Blackburn's campaign, responding to an inquiry about the restriction, saying that "if this [content] is omitted from the video it will be permitted to serve."
Blackburn was the chair of the Select Investigative Panel on Infant Lives that investigated Planned Parenthood and its relationship with biotech firms who procured the fetal body parts from abortions like livers, brains and lungs for research purposes. The panel's final report was published in January 2017. This practice of selling baby body parts was originally exposed in 2015 by investigative journalists David Daleiden and Sandra Merritt from The Center for Medical Progress.
The abortion group and their allies, however, continue to assert the videos of PP employees talking about this — that were recorded undercover — were deceptively edited and make false claims. They maintain they never sold body parts but that the money received from their tissue donation program were for storage and transport costs and were thus legal. Nevertheless, PP said in October of 2015 that they would stop taking the reimbursements in order to quiet the controversy, which led to Republican-led investigations, as noted by The Wall Street Journal at the time.
In response to Twitter's actions, Blackburn, pro-lifers and conservatives decried Silicon Valley's censorship and duplicity.
"This is urgent. I'm being censored for telling the truth," Blackburn wrote in a fundraising email. "Twitter has shut down my announcement video advertising. Silicon Valley elites are trying to impose their values on us. When I talked about our legislative accomplishments to stop the sale of baby body parts, they responded by calling our ad 'inflammatory' and 'negative.'"
The Susan B. Anthony List, a pro-life political action committee that works to elect pro-life women to Congress posted a string of tweets outlining several occasions in the past where Twitter "can't handle the truth" about abortion and had refused their ads. 
Actress Patricia Heaton, star of ABC's The Middle, retweeted Tuesday Students For Life's post calling out Twitter, adding: "You can do better, Twitter." 
Liz Cheney, daughter of former Vice President Dick Cheney and now the Congressional representative for the state of Wyoming, urged her Twitter followers to retweet an Associated Press report about the matter "to tell @twitter: planned parenthood did sell baby body parts & it's wrong to ban @VoteMarsha from saying so."  
NARAL, on the other hand, praised Twitter's censorship, writing on Twitter, "Thank you, @Twitter, for taking a stand against Marsha Blackburn's anti-choice lies!"
Writing at The Federalist Monday, senior editor David Harsanyi observed Twitter's double standard for what is considered offensive, and that the social media platform is "running interference" for the abortion industry yet again.
"Most people who have been bombarded with Twitter accounts featuring swastikas and hammer-and-sickles over the past year-and-a-half are likely to find it extraordinary that an ad offering a traditional critique of the abortion industry should be especially incendiary to a sales team," Harsanyi wrote.
"Twitter is, after all, the platform on which liberals regularly accuse Republicans of the premeditated murder of children through the nefarious block-granting of Medicaid funds. Abortion is just one of the many debates that provoke strong negative reactions."
He further noted, also reported by CP on June 29, that Twitter has made similar moves against other pro-life groups. Earlier this summer the social media company disallowed Live Action from procuring ads that showed sonogram images of unborn children and fact-check challenges to Planned Parenthood's claims under the banner of their "hate and sensitive" policy.