US Slaps Sanctions on 2 Turkish Political Leaders Over Andrew Brunson's Detention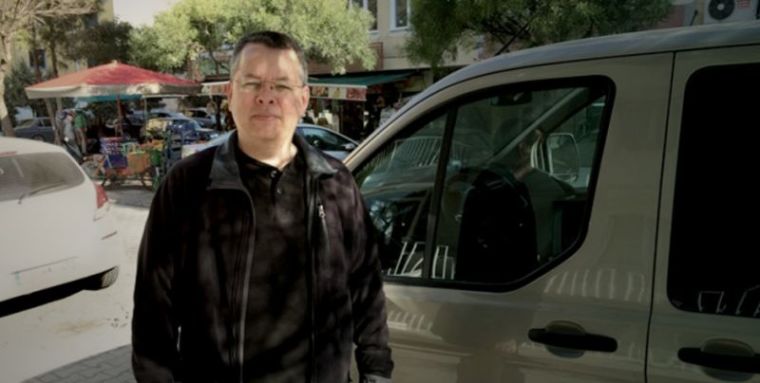 The Trump administration followed through on its threats to take action against Turkey over the detention of American Pastor Andrew Brunson by sanctioning two top government officials on Wednesday.
The U.S. Department of the Teasury's Office of Foreign Assets Control announced that it has sanctioned Turkey's Minister of Justice Abdulhamit Gul and Minister of Interior Suleyman Soylu, both of whom lead agencies that are responsible for the arrest and imprisonment of the 50-year-old North Carolina native.
"Pastor Brunson's unjust detention and continued prosecution by Turkish officials is simply unacceptable," Treasury Secretary Steven Mnuchin said in a statement. "President [Donald] Trump has made it abundantly clear that the United States expects Turkey to release him immediately."
The sanctions come after Vice President Mike Pence and Trump vowed last week that they would slap "significant" and "large" sanctions on its NATO ally over Brunson's detention. Pence made the promise during his keynote speech last Thursday at the State Department's Ministerial to Advance Religious Freedom, a day after Brunson was released to house arrest after over a year-and-a-half in prison.
Family Research Council President Tony Perkins, who also serves on the U.S. Commission on International Religious Freedom, said in a statement that the sanctions send "an unequivocal message that America will no longer abandon Americans who are wrongfully detained abroad."
Brunson appealed to a Turkish court this week to be released from his home detention. However, his appeal was rejected on Tuesday.
Brunson, who has served as a church leader in Izmir for over two decades, was accused of having connections to an Islamic organization blamed for the 2016 coup attempt against the Erdogan government and was also accused of having connections to Kurdish militants. He has denied all charges. Many feel that he is being used as a political pawn to pressure the U.S. government to extradite Islamic cleric Fethullah Gulen.
"We've seen no evidence that Pastor Brunson has done anything wrong and we believe he is a victim of unfair and unjust [detention] by the government of Turkey," White House Press Secretary Sarah Sanders said on Wednesday. "As a result, any property or interest in property of both ministers within U.S. jurisdiction is blocked and U.S. persons are generally prohibited from engaging in transactions with them."
The sanctions against Gul and Soylu are pursuant to the executive order issued last December by Trump which states that "serious human rights abuse and corruption around the world constitute an unusual and extraordinary threat to the national security, foreign policy, and economy of the United States."
Additionally, the Global Magnitsky Act of 2016 permits the U.S. government to target entities that participate in human rights violations and corruption with measures including travel bans and seizure of U.S. assets.
The Turkish government has claimed that it cannot intervene in Brunson's case because it is being handled by the judicial system. Brunson has had three hearings so far in which only questionable secret witness testimony has been presented against him. His next court hearing is in October.
Brunson is not the only U.S. citizen who's being held by Turkish authorities. Earlier this year, Turkish-American NASA scientist Serkan Golge was sentenced to up to seven-and-a-half years in prison on a terrorism conviction that's been condemned by U.S. officials.
"I applaud the Trump administration for sanctioning individuals within Erdogan's [government] who are responsible for the imprisonment of Andrew Brunson [and] other Americans," Sen. James Lankford, R-Okla., wrote in a tweet Wednesday. "As a nation, we owe it to those who are being jailed unjustly to hold their Turkish perpetrators accountable."
Human rights groups have also voiced concern about the rise of arrests and jailings that occurred in the wake of the 2016 coup attempt.
According to data provided by the rights group In Defense of Christians, over 65,000 people have been arrested since the government began its post-coup crackdown and over 152,000 people have lost their jobs. Among those who lost their jobs are thousands of academics and over 4,000 judges and prosecutors.
The U.S. Commission on International Religious Freedom lists Turkey as a "Tier 2" country of concern for religious liberty.
"In 2017, the state of religious freedom in Turkey worsened. Proposed changes in the educational curriculum, an increase in government funding solely for Sunni mosques, and a lack of movement with respect to legal status and registration for non-Muslim communities have led Turkey on a downward trend," a 2018 USCIRF report states, adding that the nation's strict secularization prevents religious communities from obtaining full legal status.
"The majority of the other longstanding religious freedom concerns remain unresolved, including the return of expropriated minority properties, the delay in providing dual citizenship to Greek Orthodox Metropolitans so they can participate in the church's Holy Synod, and equal funding for religious minority community buildings from the public budget."
Turkey President Recep Tayyip Erdogan warned the U.S. on Sunday that it risks losing a "strong and sincere partner" if it continues pressuring it over Brunson.
"You cannot make Turkey take a step back with sanctions," Erdogan declared. "They need to know the following: we are not tied with an umbilical cord to the U.S." 
On Wednesday, he claimed that "Turkey has no problems related to [religious] minorities."
"Threatening language of the U.S. evangelist, Zionist mentality is unacceptable," Erdogan told reporters. "We will continue on the path we believe in without the slightest concession to our freedom, sovereignty, or judicial independence."