US Supreme Court to Hear Trump Travel Ban Case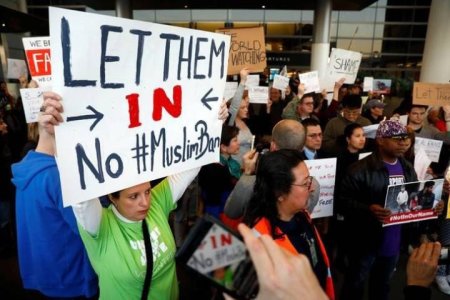 WASHINGTON — The U.S. Supreme Court on Friday agreed to decide the legality of President Trump's latest temporary travel ban targeting six Muslim-majority countries.
The Supreme Court is due to hear arguments in April and issue a ruling by the end of June on whether the policy violates federal immigration law or the U.S. Constitution's prohibition on religious discrimination. Trump's policy, announced in September, blocks entry into the United States of most people from Chad, Iran, Libya, Somalia, Syria and Yemen.
The legal fight involves the third version of a contentious policy Trump first sought to implement a week after taking office in January 2017.
The Supreme Court, which is handling a series of closely watched cases, signaled on Dec. 4 it was likely to uphold the ban when, on a 7-2 vote, it let it go into full effect while legal challenges by the state of Hawaii and others continued. Lower courts had partially blocked the ban.
The president has said the policy is needed to protect the United States from terrorism by Islamic militants.
Those challenging the policy have argued it was motivated by Trump's enmity toward Muslims, pressing that point in court with some success by citing statements he made as a candidate and as president.
As a candidate, Trump promised "a total and complete shutdown of Muslims entering the United States." As president, he has rescinded protections for hundreds of thousands of immigrants who were brought into the country illegally as children and sought to ramp up deportations.
Immigration arrests have tripled since January 2017 to an average of 142 people a day, though actual deportations are down from the rate under Trump's Democratic predecessor, Barack Obama.
"We have always known this case would ultimately be decided by the United States Supreme Court. This will be an important day for justice and the rule of law. We look forward to the court hearing the case," said Hawaii Attorney General Douglas Chin, a Democrat.
A Justice Department spokeswoman declined to comment.
The ACLU pursued a separate legal challenge in Maryland that is now before the Virginia-based 4th U.S. Circuit Court of Appeals.
"The Supreme Court can and should put a definitive end to President Trump's attempt to undermine the constitutional guarantee of religious equality and the basic principles of our immigration laws, including their prohibition of national origin discrimination," ACLU lawyer Omar Jadwat said.
'THE NATION'S INTEREST'
The case represents a high-profile test of presidential powers. In court papers, U.S. Solicitor General Noel Francisco, arguing for the Trump administration, said the president has "broad authority to suspend or restrict the entry of aliens outside the United States when he deems it in the nation's interest."
The latest ban was introduced on Sept. 24 after what Francisco called an "extensive, worldwide review" to determine which foreign governments provide information required by the United States to vet those seeking entry. The countries on the list are those that do not share that information or present "other heightened risk factors," Francisco said.
Hawaii's lead lawyer Neal Katyal said in court papers that the president has only limited authority to exclude entry of people from other countries.
Under a U.S. law called the Immigration and Nationality Act, a president can restrict entry only of those deemed a potential threat or in certain emergency situations. The law also prohibits discrimination on the basis of nationality.
The law does not "surrender to the president a boundless authority to set the rules of entry and override the immigration laws at will," Katyal said in court papers.
Trump's ban also covers people from North Korea and certain government officials from Venezuela, but lower courts had already allowed those provisions to go into effect.
Although lower courts have ruled against Trump over this three travel bans, the Supreme Court has given him a friendlier reception.
In a series of emergency actions, it has issued decisions at least in part favorable to Trump without ever resolving the legal merit of the policies. 
The justices in June revived parts of Trump's second ban he signed in March.
There are some exceptions to Trump's most recent ban. Certain people from each targeted country can apply for a visa for tourism, business or education purposes, and any applicant can ask for an individual waiver.
For people from the eight Muslim-majority countries named in any of Trump's three bans, there was a 41 percent drop in visas granted to enter the United States last year compared to before the bans were announced, government data showed.
Courts in Seattle and Maryland ruled the current ban unlawful, prompting the administration to appeal. Before the Supreme Court's December order, the lower courts had allowed the ban to go into effect for those with no close relatives in the United States or "formal, documented" relationships with U.S.-based entities such as universities and resettlement agencies.
Reporting by Lawrence Hurley. Additional reporting by Yeganeh Torbati; Editing by Will Dunham