Vatican Removes Pope Francis' Comments Advising Parents to Seek Psychiatric Help for Gay Children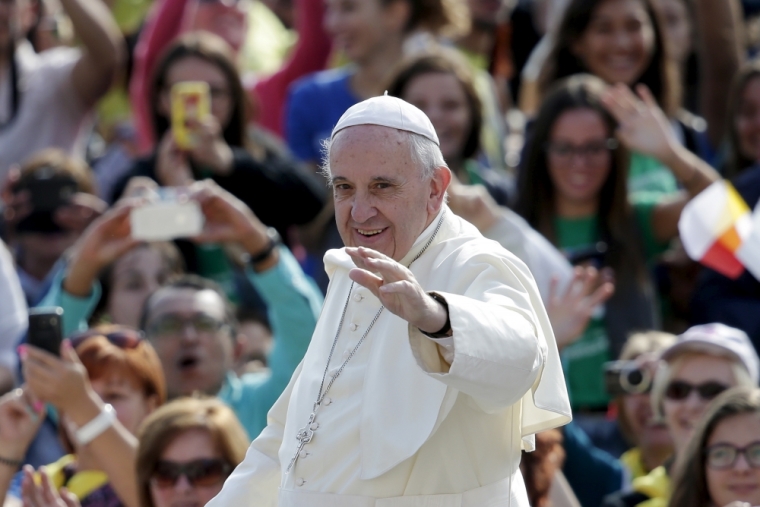 The Vatican has removed from its official account a comment made by Pope Francis in which he appeared to endorse sexual orientation change efforts therapy for youth.
Also called "conversion therapy" or "reparative therapy," the practice involves using counseling to reduce or even remove same-sex attraction in an individual.
Following the World Meeting of Families gathering in Dublin, Ireland, Francis was asked his opinion on what parents should do if their children appear to be homosexual.
"When it shows itself from childhood, there is a lot that can be done through psychiatry, to see how things are. It is something else if it shows itself after 20 years," the pontiff said, according to The Guardian.
However, the Vatican later omitted the comment about psychiatric help. The French publication AFP quoted an unnamed spokeswoman on Monday who explained that the change was made to better reflect Francis' views.
"When the pope referred to 'psychiatry,' it is clear that he was doing it to highlight an example of 'things that can be done.' But with that word he didn't mean to say that it (homosexuality) was a 'mental illness,'" explained the spokeswoman.
The pope's comments came after the World Meeting of Families, a major Catholic Church gathering that takes place every three years and focuses on issues of marriage and the family.
This year's gathering was held in Dublin, Ireland, from Aug. 22–26 and was attended by an estimated 150,000 people. Among the featured speakers was Father James Martin, a Jesuit priest who has garnered controversy for his outreach to the LGBT community.
During his remarks, which centered on how the Church can be more welcoming of LGBT families, Fr. Martin took issue with the idea of sexual orientation being a choice.
"Sadly, many people still believe that people choose their sexual orientation, despite the testimony of almost every psychiatrist and biologist — and, more important, the lived experience of LGBT people," said Martin.
"You don't choose your orientation or gender identity any more than you choose to be left-handed. It's not a choice. And it's not an addiction. Thus, it is not a sin simply to be LGBT."
According to the Catechism of the Catholic Church, "homosexual acts are intrinsically disordered" and are also "contrary to the natural law."
"They close the sexual act to the gift of life. They do not proceed from a genuine affective and sexual complementarity. Under no circumstances can they be approved," continued the Catechism.