Video of Canadian pastor forcing police out of church during Passover celebration goes viral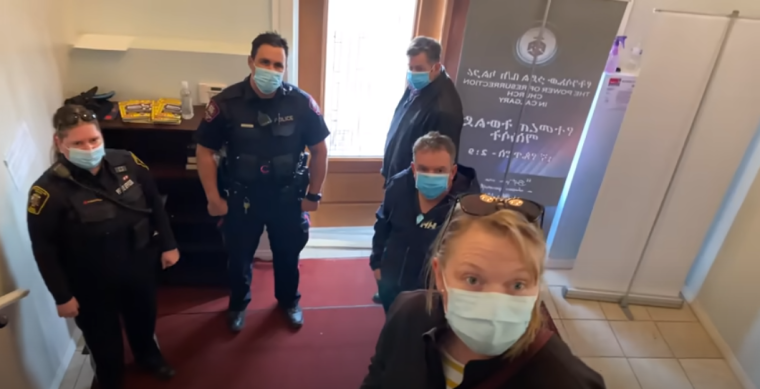 A video documenting a confrontation between a Canadian pastor and local police who entered his church without a warrant has gone viral, receiving millions of views in less than 48 hours.
Pastor Artur Pawłowski of Calgary's Street Church shared a video of an encounter he had with local police and government officials who entered the church during a Passover celebration on Saturday.  
The video was also shared by a Twitter user with the handle @Mrtdogg Saturday, which has received nearly 3 million views. 
The video was amplified by Ezra Levant, a Canadian political commentator and the founder of Rebel Media. It shows the heated pastor yelling at the government agents to leave his church building, calling them the "Gestapo," a reference to the secret police in Nazi Germany.
"This is how you handle police who enter a church without a warrant. They're lucky they only got a tongue-lashing," Levant wrote.
Citing the fact that the "Criminal Code makes it a crime to disrupt a church service," Levant asserted that the "@CalgaryPolice thugs were breaking the law (and knew it)."
Levant identified the pastor as Pawlowski. 
According to Levant, "He was the very first client of our civil liberties project."
"@CalgaryPolice thugs fined him $1,200 for feeding the homeless," Levant wrote in a tweet.
In the video, the pastor is seen telling the agents to "get out of this property immediately."
He repeatedly told the visitors to "get out," adding, "I don't want to hear a word." While the public health officer standing in front of the police officer attempted to talk to Pawlowski, her comments were inaudible.
Pawlowski told the officials that he would refuse to speak with them "until you came back with a warrant." He called them "Nazis," repeatedly telling them, "Gestapo is not allowed here." When they refused to leave the church, he asked them, "Do you understand English?"
"Nazis are not welcome here. And don't come back without a warrant," he reiterated as they began to exit the building.  
"Do not come back, you Nazi psychopaths!" he shouted as they left the property. "Unbelievable, sick, evil people intimidating people in a church during the Passover, you Gestapo, Nazi Communist fascists."
For the last 20 seconds of the video, Pawlowski appeared on camera, asking: "Can you imagine those psychopaths, Passover, the holiest Christian festival in the year, and they're coming to intimidate Christians during the holiest festival? Unbelievable! What is wrong with those sick psychopaths?"
A longer version of the video was posted on Pawlowski's YouTube page Sunday. The pastor lamented that "we're living in a … total takeover of the government with their thugs, goons, the brown shirts, their Gestapo wannabe dictators coming to the church armed with guns and tasers and handcuffs to intimidate during Passover celebration." 
"They want to enslave us all like the Egyptians did. They want to be pharaohs of today. That's what they're doing," he concluded.
Pawlowski called on Canadians to "rise up" against their government's actions, citing Germany's coronavirus policies as an example of what could soon take place in Canada.
"Germany is taken over by fascism again. The wannabe Hitlers are already ruling. You cannot even leave from one city to another. It's a total lockdown," he argued. 
"If you will not be vaccinated like a dog or a cat, you will not be able to buy or sell. You will not be able to go to school or work. Is that the future you want? Is that what you want for your children and your grandchildren? Seriously, is that the future of Canada? That's the future of Canada?"
Pawlowski posted a response from the Calgary Police Service on his Twitter page. The police department acknowledged that "one uniformed member of the Calgary Police Service attended a call to assist our partner agencies, Alberta Health Services and City of Calgary Bylaw Services, in relation to a religious gathering being held at the Street Church."
The law enforcement agency justified its actions by pointing out that "the concern was that the people in attendance were not adhering to the government's COVID-19 public health orders, which are in place to ensure everyone's safety." 
The statement stressed that "We do not wish to disrupt anyone's holidays or religious or spiritual events, however we must support our partner agencies when called upon to help ensure everyone can safely celebrate these occasions."
"What a lame response from the Calgary Police Department!" Pawlowski wrote in his tweet. "They know that they have broken the law! No apologies!"
Pawlowski is not the only Canadian pastor confronted by local or state governments for failing to abide by worship restrictions imposed due to the coronavirus pandemic. A church in the eastern province of Ontario was fined $83,000 for holding a worship service with more than 10 people.
Canadian Pastor James Coates of Edmonton, Alberta, was arrested in February for holding worship services in violation of his province's public health guidelines. He spent about a month in jail before his release last month. He is currently awaiting his trial set to begin in May.
Pawlowski's law enforcement confrontation comes as the coronavirus restrictions and policies imposed by the Canadian government on the general public receive scrutiny from the media. 
Nico Johnson, the political editor of the Canadian website The Post Millennial, detailed how he was detained at Toronto's Pearson International Airport and forced to stay in a "designated government facility." Johnson described his experience during an appearance on Fox News' "Tucker Carlson Tonight" last week.
Johnson spoke to Carlson from what he described as one of several "COVID hotels just outside Pearson Airport." He acknowledged that while "it isn't quite squalor," he was still charged $1,000 to stay three nights at the hotel even though "I don't quite think it's worth that."
Although Johnson tested negative for the coronavirus, he was still "sort of shipped off to one of these hotels." Johnson explained that he was "not allowed to leave" and could face a "serious punishment" if he left early: "It's not terribly pleasant, really, I'd rather like to go home, which I think would probably be safer."
According to Johns Hopkins University, the coronavirus pandemic has killed more than 23,000 Canadians and infected more than 1 million people in the country. More than 700,000 Canadians are fully vaccinated, accounting for 1.9% of the total population.
.