Walter Scott Justice Rally Kicks Off in South Carolina as White Cop Could Face Death Penalty Over Shooting Death of Unarmed Black Man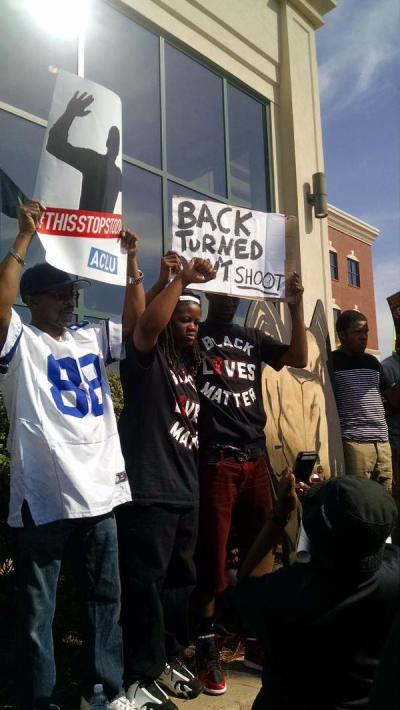 A rally was held in North Charleston, South Carolina, Wednesday morning, one day after a white police officer was charged with murder in the shooting death of an unarmed black man.
A group of human rights activists, mostly made up of local residents and religious leaders, gathered outside of North Charleston City Hall today to protest police brutality in the wake of the death of Walter L. Scott, who was fatally shot by North Charleston Patrolman First Class Michael T. Slager, 33, on Saturday.
Some protesters wore shirts with the words "I Can't Breathe" emblazoned on the front while clutching signs that read "Black Lives Matter" as a nod to high profile cases that have sparked ongoing racial unrest around the country.
"I think that this is just another example of a problem that we have in our community, and we need to take a hard look at the way police officers are hired and advanced and deployed and disciplined, and also the systems of accountability in general," Brandon Fish, a member of activist group Black Lives Matter-Charleston, told The Charleston City Paper on Wednesday.
Scott, a 50-year-old father of four, was shot in the back at least six times as he ran away from Slager during a routine traffic stop over the weekend and the incident was captured on video. Cell phone footage appears to contradict the police officer's claims that he feared for his life as it shows Scott attempting to flee and Slager then shoots him several times, forcing the veteran Coast Guard to stumble to the ground head first.
(Photo: Twitter)
2 photo slide
(Photo: The Post and Courier video screencap)
Slager, who joined the department in 2009, reportedly stopped Scott over a broken brake light when trouble ensued. Outraged locals demanded justice for the victim's family after footage of the incident went viral.
"No justice, no peace!" activists chanted at the human rights rally, adding, "This is what democracy looks like!"
Scott reportedly had a warrant out for his arrest from family court at the time of his tragic death, which could explain why he tried to flee.
During the rally, activists took turns exchanging personal stories about their disturbing encounters with local police amid growing concerns of police brutality and abuse of power in the police force.
"This is a movement, this is not a moment," one protester said on the podium, with another adding, "This is a culture that needs to change and that's why we're here today!"
At one point, the group collectively broke out into song when one activist led them into the late Rev. Cleophus Robinson Jr.'s famous gospel song "Hold On Just A Little While Longer".
Video footage shows Scott's lifeless body laying on the ground as Slager handcuffs him. The officer then proceeds to jog back a few steps to collect something from the ground before making his way back to Scott's body and dropping an object beside it.
*WARNING* Video below contains graphic content.
"When I saw it, I fell to my feet and my heart was broken," Scott's father, Walter Scott Sr., said on NBC's "Today" show adding that without the video "It would have never come to light. They would have swept it under the rug, like they did with so many others."
The Mayor of North Charleston announced Tuesday that Slager had been arrested and charged with murder after a witness turned over the footage to authorities.
"Had this video not been shot and surfaced, they were setting up a case that would ultimately have let that officer off the hook," said Pastor Thomas Dixon who attended the rally. "It would have been the same outcome we've seen time and time again."
Slager's request for bond was denied yesterday. The FBI and U.S. Justice Department are currently investigating Scott's shooting death.
"When you're wrong, you're wrong," Mayor Keith Summey said at a news conference yesterday. "And if you make a bad decision, [I] don't care if you're behind the shield or just a citizen on the street, you have to live by that decision."
L. Chris Stewart, an attorney for the victim's family, vowed to get justice in the form of a conviction. If convicted of murder, Slager faces up to 30 years to life in prison, or the death penalty.
"It goes to power itself. This was a cop who felt like he could just get away with shooting someone that many times in the back," Stewart said. "It speaks to the value of human life."
Stewart said the victim's family intends to file a lawsuit against Slager, the department and the city as they believe that Scott's civil rights were violated.
"It's been a tragic day," North Charleston Police Chief Eddie Driggers said.
Meanwhile the person who filmed the tragic incident is said to be in contact with authorities. Their identity has not yet been made public.
North Charleston is the third largest city in South Carolina with a population of more than 104,000, according to 2013 data from the Census Bureau.
More than 47 percent of the population is black while 41 percent is white, according to 2010 data. Less than 20 percent of the police department's 340 officers are black.
The incident comes in the wake of ongoing racial unrest around the nation in relation to a growing number of cases involving white police officers and black males. Last year, the shooting death of unarmed teen Michael Brown in Ferguson, Missouri, triggered nation-wide protests. The 2012 killing of Florida teen Trayvon Martin and the 2014 chokehold death of Staten Island resident Eric Garner are further examples of cases that have divided the nation and sparked civil unrest.
The Christian Post contacted attorney L. Chris Stewart but he did not respond by press time.