WATCH: Amazing Life of Pre-Born Humans Featured on NBC's 'Today Show'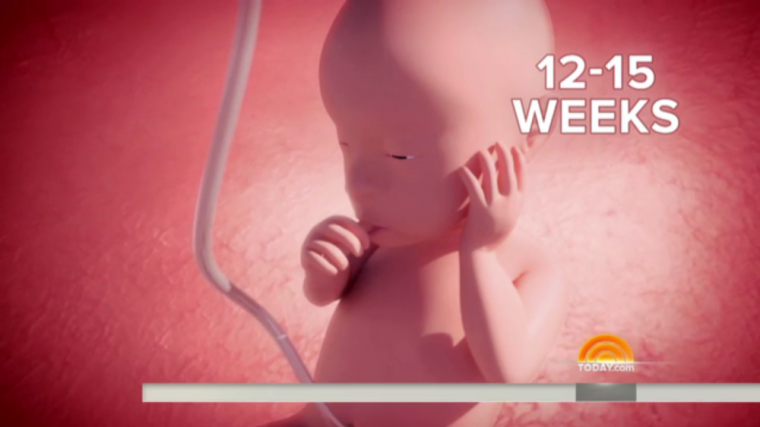 An incredible video showing the development of babies inside their mothers womb appeared in a report titled "The Secret Lives of Babies" on NBC's "Today Show," outlining what happens inside "Hotel Uterus" during those nine months before birth.
"Have you ever wondered how they spend their time while hanging out in Mom's belly?" reporter Savannah Guthrie, who happens to be pregnant herself, asks.
The episode first aired two years ago, July 31, 2014, but often gains new life on social media.
Many mothers read to their children in the womb and research from the University of Florida shows that babies may recognize nursery rhymes before they are born. When the moms start reading to their babies in utero, studies found that the babies heart rate slowed and "continued to lower when a different voice took over storytime a few weeks later."
"Everything that a newborn baby does, a fetus has pretty much done already," said Columbia University professor of psychiatry, Dr. Bill Fifer, who is an expert on fetal and newborn learning.
At 12-15 weeks pre-born babies reach a milestone of sorts; they begin touching themselves, often sucking their thumbs.
"They're exquisitely able to sense information over all parts of their body, although some are more sensitive than others, like around the mouth, around the feet, around the hands," Dr. Fifer continues.
The mother's emotions have also been shown to affect what the baby does inside the womb. Researchers in England found that fetuses touching their face with their left hand is correlated with the the stress level of the mother.
At 18 weeks, the ears are fully formed, early enough for children to recognize mom's voice by the time they are born. A preborn babies sense of taste and smell is fully developed which by 20 weeks, allowing him or her to "enjoy mom's cravings."
Watch the full NBC video here: