Obama Gets Teary in Emotional Talk With Campaign Staff (VIDEO)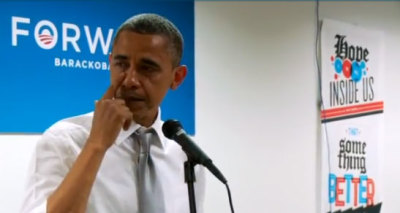 The Obama campaign released a video Thursday showing President Barack Obama giving a tearful talk to campaign staff and volunteers in Chicago.
In a surprise visit to the campaign office Wednesday, after being re-elected president, Obama gave a heartfelt thank-you and let them know that they have been his source of hope.
"I'm just looking around the room and I'm thinking wherever you guys end up ... you're just going to do great things," he told the volunteers.
"And that's why even before last night's results I felt that the work that I had done in running for office had come full circle because what you guys have done means that the work that I'm doing is approved. I'm really proud of that. I'm really proud of all of you," Obama said as he wiped tears from his face.
In the video below, you can watch the tearful moment beginning at the 3:26 minute mark. The campaign released the video "because it's a message every single person who helped build this campaign deserves to see. He wasn't just talking to those of us in the office—he was talking to all of you." It has already received nearly 1.5 million hits on YouTube.
Obama defeated GOP challenger Mitt Romney in Tuesday's election. He won both the Electoral College and popular vote. Late results from Florida had Democrats concluding that Obama won the Sunshine State, bringing his total of electoral votes to 332, against Romney's 206. But the results are still not official.
In his visit to the Chicago campaign office, Obama recalled the time he first moved to Chicago at the age of 25 with an "inkling about making a difference."
At the time Ronald Reagan had just been re-elected and was incredibly popular. So without a presidential campaign to attach himself to, Obama found himself becoming a community organizer as a group of churches hired him.
"And the work that I did in those communities changed me much more than I changed the communities because it taught me the hopes and aspiration and the grip and resilience of ordinary people and it taught me the fact that under the surface differences we all have common hopes and we all have common dreams," he said.
"So I come here and I look at all of you, what comes to mind is it's not that you guys actually remind me of myself, it's the fact that you are so much better than I was in so many ways," he told the volunteers.
"Whatever good we do over the next four years will pale in comparison to what you guys end up accomplishing for years and years to come and that's been my source of hope. That's why in the last four years when people ask me how do you put up with this and that, the frustrations of Washington, I just think about you, what you guys are going to do.
"That's the source of my hope, that's the source of my strength and my inspiration."
President Obama: "I'm Really Proud of All of You."