Western Washington University Students Wash Away Pro-Life Group's Messages to Prevent 'Hurt' Feelings (VIDEO)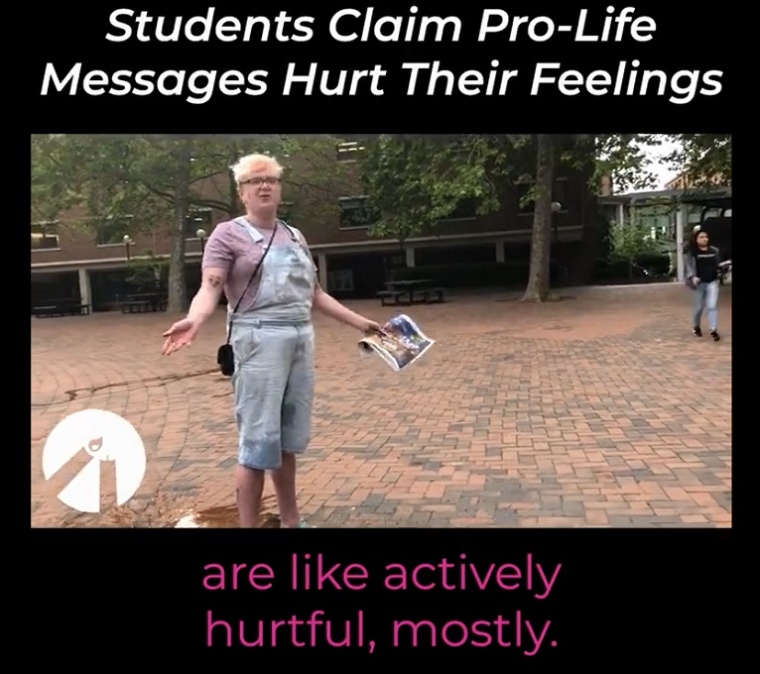 Students for Life of America captured on video students erasing their pro-life messages at Western Washington University. The pro-choice students justified their actions by saying they wanted to save people from having their feelings hurt.
"They're writing anti-choice s*** all over so we're just trying to wash it off before it might hurt someone's feelings," an unidentified student explains to another student in the video that was published on Facebook.
Students for Life of America had written with chalk pro-life messages on the grounds of the campus. The messages include: "Pregnant? Need help? Pregnantoncampus.org" and "Love them both."
Pro-choice students, however, used an orange traffic cone to scoop up water from a nearby fountain and erase the messages.
The pro-life student asks in the footage, "Is your plan to erase all of our messages?"
The pro-choice student replies, "Just the really [expletive] ones. We're picking up cones and filling them with water to wash them off."
When asked what part of the pro-life messages they have a problem with, the pro-choice student answers:
"I mean mostly we're going for the ones that are actively hurtful."
Students for Life said they rechalked the messages that night but the following morning, they found a Western Washington University worker washing away the pro-life chalking with a hose. When asked why the school was having him erase the messages, he said, "I don't know, provacative I guess ... They just said there is a lot of chalk graffiti on the ground and go take care of it."
Students for Life turned the footage over to campus police. 
The national youth organization has often met opposition and has seen its displays vandalized in universities across America.
In March, it was successful in a federal lawsuit against Miami University of Ohio, which had attempted to require a "trigger warning" for pro-life speech on campus.
Members of the campus Students for Life club were told in October 2017 that they must post "warning" in front of their display of 300 crosses, each one meant to represent 1,000 abortions conducted by Planned Parenthood in 2017.
Nonprofit legal group Alliance Defending Freedom helped the students file a federal lawsuit, however, leading to a settlement that rolled back the "trigger warning" requirements.
"This is a victory for the free speech rights of students, who should not be told that their support of mothers and their preborn children is some kind of shameful act that should be apologized for or vilified as harmful," Kristan Hawkins, president of Students for Life of America, told The Christian Post at the time.
"A tragic national trend in violations of student free speech rights is developing nationwide. But our courageous student leaders show every day that they care more about preborn infants and women than with an easy college experience by continuing to speak up for life, no matter what," she added.
Watch the Students for Life video below: