What Paul Ryan Really Believes About Ayn Rand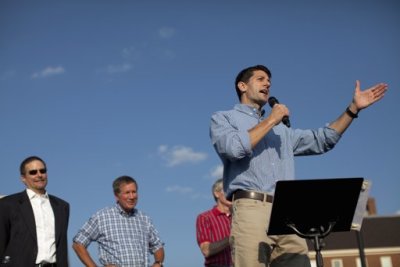 Republican vice presidential nominee Paul Ryan has been labeled by some in the media as a "Randite," "Rand devotee," and "Rand nut," due to a "deep devotion" to or "dangerous obsession" with the works of libertarian philosopher Ayn Rand. Much of this coverage implies that one either accepts or rejects Rand's philosophy in its entirety, with no room for middle ground. In a Tuesday interview with Fox News' Brit Hume, Ryan provided a more nuanced view, explaining the parts of Rand's philosophy that he appreciated and the parts of her philosophy that he rejects.
"What is your view of Ayn Rand? Are you really an Ayn Rand disciple?" Hume asked.
Ryan answered that he "enjoyed reading her novels, Atlas Shrugged in particular," and it was those novels that triggered his interest in economics.
Ryan has bachelor's degrees in economics and political science. His desire to study economics came after reading Rand's novels, Ryan explained, because, "she showed how the pitfalls of socialism can hurt the economy."
Ryan noted that Rand, who was born in Russia in 1905, had been exposed to communism. He found her novels "very compelling" in the message that "freedom, free enterprise, liberty, is so much better than totalitarianism, than socialism."
There are other parts of Rand's philosophy, though, that Ryan said he rejects.
"I later in life learned about what her philosophy was," Ryan said, "It's called objectivism. It's something I completely disagree with. It's an atheistic philosophy."
Much of the lore within the liberal press over Ryan's appreciation of Rand derives from a 2005 speech he gave to The Atlas Society, a group devoted to promoting the philosophy of Ayn Rand. In that speech, Ryan, as one might expect, spoke about the parts of Rand's philosophy that he liked. He also said that Atlas Shrugged, along with the works of Ludwig Von Mises and Freidrich Hayek, was "required reading" for his staff and interns.
Part one of Atlas Shrugged was made into a film in 2011. Part two will be released on Oct. 12, 2012. In an October 2011, interview with The Christian Post, Harmon Kaslow, the producer of the films, spoke about Rand's atheism and the renewed popularity of her books within the tea party movement.
"We believe that people of faith will find that the film, like the story, emphasizes cardinal virtues, such as self-reliance, integrity, honesty, strength of character, liberty, and justice. ... I think there's no reason to explore her personal position regarding religion. The story speaks for itself and has all those cardinal virtues that people of faith will embrace and have embraced," Kaslow said.
Rep. Paul Ryan up Close