What Supporters, Opponents of Christian Baker Had to Say Outside of Supreme Court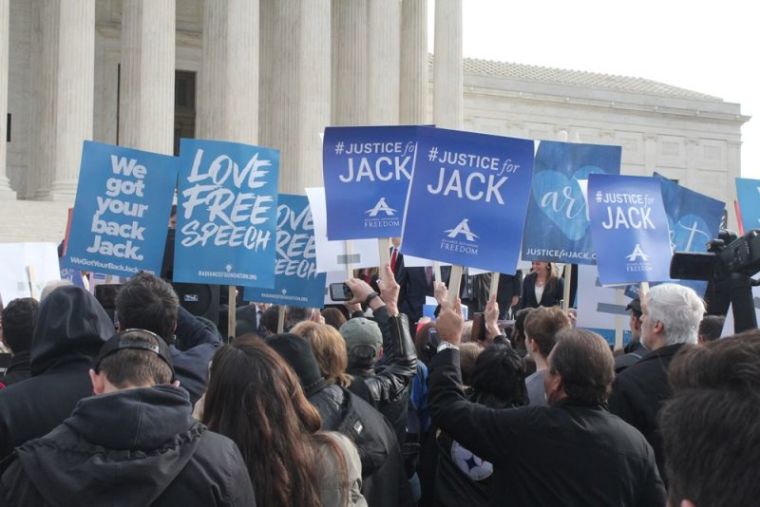 WASHINGTON — The Supreme Court heard oral arguments Tuesday in the case of Jack Phillips, a Christian baker from Colorado who was sued because he declined to make a custom wedding cake for a same-sex couple. Supporters on both sides of the issue showed up outside the court in full force and full of opinions.
"This case is a watershed case," Roger Erdvig, who heads Wilmington Christian School in Wilmington, Delaware, told The Christian Post, noting there will be "downstream implications" that will impact other people of faith if Phillips is "not affirmed in his right to say 'no'" to doing a specific artistic expression.
"Where does the line get drawn then?" the 48-year-old, who traveled from Delaware with several WCS students, asked. "Anything we say, any expression we have could very easily come under the close scrutiny of government. And that's not what America is about." 
Erdvig was among hundreds gathered in front of the U.S. Supreme Court in support of either Phillips or the same-sex couple, David Mullins and Charlie Craig, in enthusiastic side-by-side demonstrations, with placards and flags waving high.
The case, Masterpiece Cakeshop v. Colorado Civil Rights Commission, is one of the most contested matters before the high court this year with constitutional arguments centering on freedom of speech and expression, religious liberty, non-discrimination policy, and public accommodation issues. The Trump administration's Department of Justice is backing Phillips.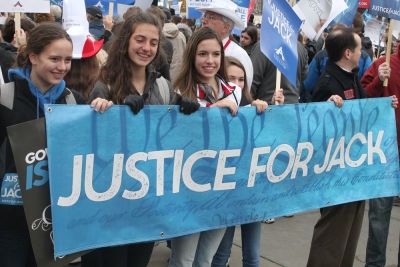 "We believe this is part of the democratic process to be able to come and show our support as citizens and exercise our right as of free speech," Erdvig commented.
"Where [Phillips] drew the line for his conscience was making a custom expression in support of a gay marriage ... so there's a big difference. He didn't have a sign on his door that said 'Gays Don't Come In."
In 2012, Mullins and Craig entered Phillips' store, Masterpiece Cakeshop in Lakewood, Colorado, and placed an order for a cake for their wedding. Phillips, whom Alliance Defending Freedom is representing, maintains he offered to sell the couple anything on the shelves but could not make the custom cake for conscience reasons as his faith dictates that marriage is between a man and a woman and he did not want to lend his artistic abilities to such a ceremony. Mullins and Craig, who are being represented by the ACLU, say his refusal is an act of unlawful discrimination.
Jonathan Levitz, senior vice president of the of National LGBT Chamber of Commerce, which represents 1.4 million LGBT American business owners, does not believe Phillips' argument passes muster in light of his profession.
"The bottom line" is that Phillips' shop is a "publicly available, open-to-all business," Levitz told CP.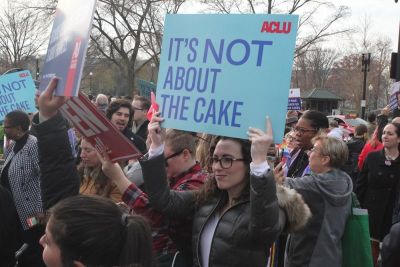 Because such business owners conduct their business in public they have "to check [their] personal beliefs and emotional baggage at the door and serve those whose, quite frankly, tax dollars help keep the roads, bridges, firefighters and everything available to [them] as a business," he said.
"So if you are willing to accept all those privileges as a business that is open, you have to accept your responsibility to serve everybody."
In light of the history of conflict between religious conservatives and LGBT activists, CP asked Levitz what he made of Phillips' contention that he also objects to creating Halloween-oriented and adult-themed cakes and that this was not just about his scruples about marriage.
"If you're a baker who wants to cut out 20 to 30 percent of the population, if you're going to include LGBT and women and anyone you might have an objection to, you're probably in the wrong line of work, because there are lots of other people who would much rather work for everybody," he replied.
"So this is great example of the market showing us what's good for business."
The Rev. Jackie Lewis, senior minister at Middle Church in New York City, agreed. She considers the case before the court not about baked goods but an ongoing struggle for civil rights in America.
"I'm an African-American clergy woman who stands on the shoulders of my ancestors and their ancestors who fought for the right to vote, who fought for the right to sit at lunch counters, who fought for the right to live without the specter of Jim Crow," Lewis said.
"And this case isn't about cake."
She also rejected the idea that this is about Phillips' "freedom" under the First Amendment because his stance costs people their "dignity and humanity" and undermines the Constitution. Phillips' line of argument is "discrimination in the name of religion," she added, "and as a Christian leader I just can't abide that."
"I don't think it's about whether he can bake a Halloween cake or a bar mitzvah cake," she said when pressed about Phillips' other business practices.
"It's about, if you make cakes for weddings then you make cakes for all the weddings because you're a public service person," she said, echoing Levitz.
"Certainly, every business has a right to what products they are going to design, but the real issue here is about who will you serve. And if we get to the place where we can't make cakes for certain people, we might get to the place where we won't do funerals for Muslims, or we might get to the place where we won't let Jews stay in our hotels, or we won't let blacks sit at lunch counters."
America has been there before and cannot go back, she added.
As hundreds of Phillips' supporters chanted "We got your back, Jack!" Star Parker, founder and president of the Center for Urban Renewal and Education, said in a CP interview that the Colorado baker's case is "the exact opposite" of lunch counter-era racial prejudice.
"In fact, what we should have learned from both slavery and from Jim Crow is that force is not an American ideal. Those issues were about forcing people to do something that their conscience wasn't about."
Much is at stake with this particular case, she noted, "and to try to equate 'gay is the new black,' it's absolutely not true."
"And that's why we have Jack's back."