What to Expect When Trump Meets 900 Evangelical Leaders Tuesday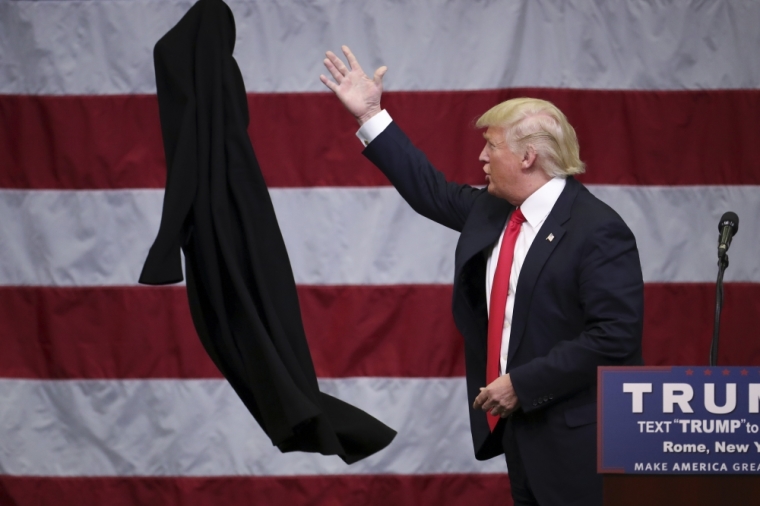 Presumptive Republican presidential nominee Donald Trump's closed-door meeting Tuesday with 900 top evangelical and social conservative leaders will be a time of questions and answers on issues such as the Supreme Court, sanctity of life and religious freedom, according to an organizer, who said a similar meeting is being discussed also with Trump's rival Hillary Clinton.
"Of the more than 50,000 questions that came in, many of them focused on those three issues. Others focused on issues related to leadership, national security, and faith," Johnnie Moore, the spokesperson for My Faith Votes, a non-partisan organization focused on engaging the 25 million Christians who did not vote in 2012 and one of the two groups behind the meeting, told The Christian Post.
"We democratized the solicitation of questions so that this meeting would be even more representative of Christians in America than the 900 people in attendance," Moore said.
The meeting, "A Conversation About America's Future with Donald Trump and Ben Carson," will be held in New York City. Both organizers My Faith Votes and United in Purpose seek to bring about cultural change in America based on Judeo-Christian principles and motivate and mobilize people of faith in the democratic process through responsible citizenship.
Asked how Trump intends to ease concerns of evangelical leaders, Moore said the purpose of the meeting is not to persuade anyone, "but to better introduce everyone to one another."
It is neither an "inquisition" nor a "coronation," but a "conversation," said Moore. "The Trump campaign has been unbelievably cooperative to commit such time with these leaders … It is the largest, most representative gathering of national, Christian leaders I've seen in my lifetime," he added. "This is not a political meeting."
Moore, who has worked with television producer Mark Burnett, continued, "This is an incredibly diverse group, and it is mainly made of pastors and other church leaders. It is not a meeting of political activists. A lion share of the most influential Christians in America will be in attendance."
The organizers have not disclosed the names of the attendees. However, some names emerged in earlier reports. They included Southern Baptist Convention President Ronnie Floyd, Focus on the Family founder James Dobson, Faith and Freedom Coalition's Ralph Reed, Penny Nance of Concerned Women for America, Bob McEwen, Tim Wildmon of the American Family Association, Kelly Shackleford of First Liberty, American Values President Gary Bauer, Family Leader President Bob Vander Plaats, and megachurch pastors Jack Graham and Ed Young.
While Trump's previous positions on abortion and marriage have caused concerns among many evangelicals and pastors, Moore said he anticipates that the questions will be "honest, clear and direct but not hostile or confrontational," the content will be "substantive and the tone will be entirely respectful, if not friendly."
On the role of Dr. Ben Carson, who pulled out of the race for Republican nomination earlier this year and endorsed Trump, Moore said the retired neurosurgeon will convene the meeting and deliver an address to all those in attendance.
Moore also said the organizers have "offered to convene a similar meeting with evangelicals for a similar 'conversation,'" with Hillary Clinton, the presumptive Democratic presidential nominee. "We'll see if she agrees to it; hopefully, she will."
Moore said he thinks Trump will highlight one major difference between him and Clinton, that he will support what's important to evangelicals and coservatives – religious freedom, conservative justices, sanctity of life – which Clinton has not promised.
Moore added that Trump should receive "a lot of credit" for "agreeing to a meeting that is not under his control at all."
"We're not his guest, he's our guest," he continued.
"We've closed this invitation-only meeting to the press so that there's at least a modicum of privacy in the room," he added.
Moore concluded, "I believe that the most important effect of the June 21 meeting is the fact that all these leaders are also coming together in prayer for our nation. The greatest benefit Donald Trump will receive from this group is their commitment to pray for him and to pray for all of our nation's candidates in all races and our incumbent leaders."