What Would Jesus Do With a Smartphone?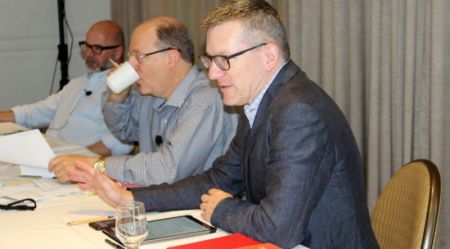 MIAMI BEACH — Is technology bad for our souls? To address the challenges of the internet age, begin by thinking about what we want out of our time on this earth, author Andy Crouch recently argued.
When Crouch set out to write The Tech-Wise Family: Everyday Steps for Putting Technology in Its Proper Place, he decided the book would not be about screen time or limits. "I think parenting by limits is the most depressing possible parenting. ... that's a horrible way to think about parenting," he said at a November 2017 Faith Angle Forum panel, "Technology: A Threat to the Human Soul?" 
Instead, he continued, the book would be about our desires: "What do we really want from our lives and for our children, our own children, our nephews and nieces, grandchildren, neighbors."
Crouch isn't a Luddite. He uses and celebrates the ways modern technology has enriched our lives, he said, noting that tech has been especially useful "for harm reduction or harm prevention."
Rather, the problem with technological devices is in the negative effects that come with the ultimate goal of technology, which Crouch says is summarized well in the two-word phrase "easy everywhere." Those negative effects are what Crouch calls the "three dis's" — disengage, disburden, distract.
When our devices disengage, disburden and distract us, they make it more difficult for us to become the people we are meant to be, Crouch explained. And the people we are meant to be can be found in the words of Jesus when he was asked, "what is the greatest commandment?"
Paraphrasing Isaiah, Jesus answered, "The first is, 'Hear, O Israel: the Lord our God, the Lord is one; you shall love the Lord your God with all your heart, and with all your soul, and with all your mind, and with all your strength.' The second is this, 'You shall love your neighbor as yourself.' There is no other commandment greater than these" (Mark 12:29-31). (See also Matthew 22:36-40 and Luke 10:27.)
"What is it to be a person?" Crouch continued. "I think it's to be a heart/soul/mind/strength complex, these four things bound together kind of inextricably, created for love. And what would it be to love with all of these four things?"
Our devices place obstacles in the way of the type of burdensome, focused engagement required to love God and neighbor with all our heart, soul, mind and strength, Crouch explained.
Crouch was joined on the panel by Andrew Sullivan, contributing editor for New York magazine. Sullivan was one of the most popular bloggers in the country for 15 years, an experience that led to a mental breakdown, which he wrote about in a September 2016 article, "I Used to Be a Human Being: An endless bombardment of news and gossip and images has rendered us manic information addicts. It broke me. It might break you, too."
"I think one of the great mistakes people make," Sullivan said at Faith Angle Forum, "is thinking, as I did for a while, that being online constantly and on your phone constantly is simply an addition to what you're already doing."
But that's wrong, he added. "It really is either/or. You're either present or you're in that [online] world."
Reflecting on his personal experience, Sullivan said in the eight or nine hours he spent online each day, he wasn't "actually reading anything." Instead, he was just "absorbing information, which is a very different thing than actually acquiring any sort of knowledge because it also becomes incredibly difficult to retain."
Those hours spent online also meant he wasn't spending time with his friends or family.
Faith Angle Forum, a program by the Ethics and Public Policy Center, gathers about 20 reporters twice a year for in-depth discussions with experts on topics related to the intersection of faith and culture. Thanks to the wonders of modern technology, you can watch, read or listen to the full panel discussion here.