White House Writer Releases Book on True Meaning of Christmas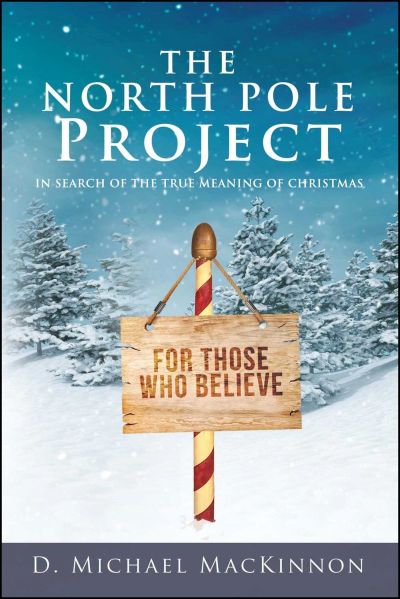 Former White House writer and accomplished author Douglas Michael MacKinnon penned an inspiring holiday novel, The North Pole Project, in hopes of reminding others that giving back is the true meaning of Christmas.
MacKinnon had quite the difficult upbringing. As a child, he was often homeless. By the time he was 17, he and his family had been evicted 34 times. However, despite his unfortunate circumstances as a child he became a Christian and went on to lead an accomplished life.
The writer used his literary skills in the White House and wrote for two sitting presidents, He also wrote for a senior official at the Pentagon. Now an established author, MacKinnon has published over 600 articles in almost every major newspaper in the country.
He was inspired during a snowstorm to write The North Pole Project: In Search of the True Meaning of Christmas.
"I had read the local newspaper with each headline being more sad and horrific than the previous. Truly good men, women, and children in seemingly inescapable pain through no fault of their own," MacKinnon said in a statement shared with The Christian Post.
"As one who grew up homeless as a child, their pain was one I knew well. I knew from my own experience that even a hint or a glimpse of joy, hope and faith was enough to ease a battered mind."
The political columnist revealed that upon looking at a large snowbank, the image of "Santa's workshop on the North Pole" suddenly flashed into his mind.
MacKinnon thought, "What if? Someone built a real workshop on the North Pole dedicated to only helping the poorest of children from around the world and then staffed it with adults going through some of the worst that life has to offer."
The former White House official is hoping his new novel can bring "joy, hope and faith" to the hundreds of thousands of "battered minds" out there.
See the book's full synopsis below.
A despondent billionaire searching for the true meaning of Christmas builds a real Santa's Workshop at The North Pole and in the process discovers the greatest joy is in giving.
Christian Nicholas's life has taken a dramatic turn for the worse. You'd think a fifty-four-year-old multibillionaire would be happy—but he's not. As Christian contemplates the worst, his older brother Paul, a minister in Texas, reminds him of the one and only time in Christian's life when he was truly happy. That time was when, as a small boy, he saved every penny all year to buy and deliver Christmas presents for needy children on the Army base he lived on with his military parents. His brother implores Christian to 'become like Santa Claus all over again.'
As he searches for the true meaning of Christmas, the (very) literal-minded billionaire decides that his life's mission is to build a real-life 'Santa's Workshop' at the North Pole. His flight of imagination will save not only him, but a select number of adults from around the world who have applied to be his 'Santa's Elves.' As they all experience first-hand the faith, hope, and charity that unites us as human beings, they all bring joy to thousands of needy children, around the world.
For more information, click HERE.