Whoopi Goldberg on Syrian Refugee Crisis: 'Hitler Was a Christian'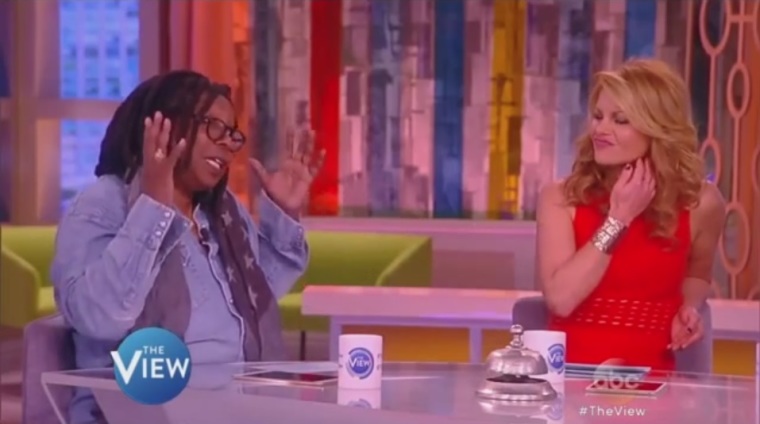 During a conversation about the Syrian refugee crisis on Tuesday's episode of ABC's "The View," co-host Whoopi Goldberg criticized Republican politicians' calls for a Christian-only Syrian refugee resettlement program and asserted that Christians can be dangerous because "Hitler was a Christian."
Goldberg, a 60-year-old actress and comedian, began the conversation by stating that Republican presidential candidates Sen. Ted Cruz, R-Texas, and former Florida Gov. Jeb Bush have called for the United States to only accept Syrian Christian refugees into the country.
"Is this really going to help root out ISIS?" Goldberg asked.
Fellow co-host Joy Behar responded by arguing that calling for the U.S. to only accept Christian refugees is a very un-Christian thing to do.
"The irony of saying that only Christians could come is not very Christian to say that, is it?" Behar asked.
Co-host Candace Cameron Bure, a devout Christian, chimed in by saying that the candidates' dialogue about the U.S. only taking in Christian refugees "didn't appeal" to her.
"Because, you are actually a Christian," Golberg, an atheist, responded.
Bure agreed, saying that Christians are supposed to be compassionate and welcoming to society's most vulnerable.
"I am a Christian, and Christians are of compassion, and that is biblical — to help people, to help the poor, the orphans, the widows," Bure responded. "This country is historically known to bring in, open its arms to displaced people."
Behar then shifted the conversation over to how Timothy McVeigh, the Caucasian-American terrorist who killed 168 people and wounded over 600 by detonating a truck bomb in front of a federal building in Oklahoma City in 1995, was a Christian.
"Timothy McVeigh was a Christian, just saying," Behar said.
Goldberg then quipped that Hitler, the German chancellor who instigated the Holocaust and was responsible for the killing over 5 million Jews, was also a Christian.
"There have been a lot of horrifying ... there have been a lot of monster Christians," Goldberg stated. "Hitler was a Christian."
Goldberg's co-hosts seemed rather puzzled by her remark and commented that they were not so sure about that claim.
"Well, he didn't like the Catholics, remember?" Goldberg insisted. "So he thought of himself as a Christian person."
Bure responded by saying that all people groups have extremists that don't accurately represent their larger community.
"There's a whole bunch of boneheads on both sides," Goldberg agreed.
With Goldberg issuing the contentious claim that Hitler was a Christian, it should be noted that Hitler never officially renounced his Catholicism and paid church dues to a Catholic church.
Hitler on some occasions even made the claim that he was "doing the Lord's work," a rationale used today by Islamic terrorists that are causing havoc around the world.
Although Hitler claimed that he was doing the God's work, Dinesh D'Souza, an author and prominent Christian apologist, wrote an op-ed for CatholicEducation.org explaining that Hitler's rhetheroic was just political speak to help increase public support for his ehtnic cleansing agenda.
"To claim that this rhetoric makes Hitler a Christian is to confuse political opportunism with personal conviction," D'Sousa wrote. "Hitler himself says in Mein Kampf that his public statements should be understood as propaganda that bears no relation to the truth but is designed to sway the masses."
"The Nazi idea of an Aryan Christ who uses the sword to cleanse the earth of the Jews — what historians call 'Aryan Christianity' — was obviously a radical departure from the traditional Christian understanding and was condemneds such by Pope Pius XI at the time," D'Sousa added.