Why Did Jesus Send Mary? 'A.D. The Bible Continues' Star Chipo Chung Talks Role as 'the Apostle of the Apostles'
Actress Portrays Mary Magdalene in Mark Burnett and Roma Downey's New NBC Series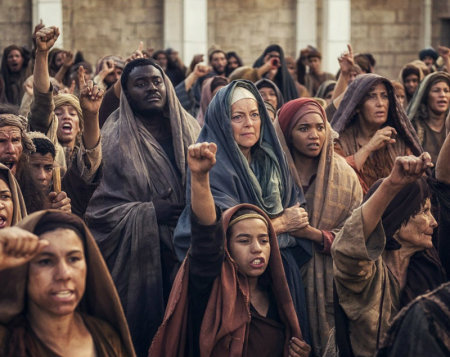 NEW YORK — Mary Magdalene has been presented by both the church and popular culture as either a prostitute or as Christ's love interest, although the Bible shows that she was neither. Chipo Chung, the Zimbabwean British actress taking on the iconic role in "A.D. The Bible Continues," recently gave her take on one of Jesus' most noted female followers.
"I think Mary was one of Jesus' most important disciples and I think that's a story that's not often told," Chung told The Christian Post Tuesday evening at the television series' premiere reception at The Highline Hotel in New York City.
"I think a lot of the stories about her say she was a prostitute and then after the Da Vinci Code people said she was a girlfriend. But when you look at the actual material and where she was, she was there at the resurrection, she was the first witness and as many of the early Christian writings said, she was the apostle of apostles."
That is partly what makes Mary controversial — she and other female followers of Christ were the first to see his empty tomb and hear the announcement from what the Bible describes as angels that Jesus had been resurrected from the dead. But it was to Mary alone, a woman, that the resurrected Jesus appeared, according to the Gospel accounts.
In addition to pop culture portrayals and speculation, Christians have for centuries, perhaps thanks to a sixth century pope, confused Mary with the sinful woman who washed Jesus' feet with her tears, wiped them with her hair, and anointed them with perfume. She has also been confused with Lazarus' sister, Mary, who sat and listened to Jesus teach during a visit to their home.
There is nothing in the Gospel accounts about Mary being a prostitute or engaging in a romantic relationship with Jesus. The New Testament writers say she "was called Magdalene," possibly linking her to the town of Magdala. She is also identified as being healed by Jesus from "seven demons," and being among the women who financially supported his ministry.
The accounts from Matthew, Mark, Luke and John paint Mary Magdalene as a devoted follower of Christ who remained by his side, even at his gruesome crucifixion, and was commissioned by Jesus himself to proclaim to his "brothers" the disciples (who were in hiding at the time) that he had come back to life. This act by Christ of sending Mary as his primary witness to the disciples would have been unusual, considering the value of a woman's testimony, Jewish or otherwise, in the first century Roman empire.
This is the woman Chung has taken on in Mark Burnett and Roma Downey's "A.D. The Bible Continues."
Chung, who has appeared on stage, in various movies and in popular television shows such as the BBC series "Doctor Who," told CP that she "grew up Catholic and went to Catholic school." The 37-year-old actress suggested that Jesus chose Mary to deliver the good news to the disciples for a particular reason.
"I think it's a testament to the fact that he believed that women were spiritually equal to men and fully capable of the kind of courage and the kind of tenacity that we need to survive in a difficult world," Chung said. "She was there when the others weren't, she was there when the others were hiding. Somehow that gets glossed over by all this talk of 'was she a prostitute.'"
She added, "I think it's difficult for a woman to work in a man's world, and I think that's why we are often slandered. So it's a great privilege to attempt to redress that story."
Asked about Mary Magdalene's relationship with the disciples, who did not believe her initial report of Jesus' resurrection, Chung said that "it's a story about friendship. And it's about a small group of people who changed the world, and how do you keep that together."
The Zimbabwean, London-based "A.D." star went a step further, suggesting that Mary is the glue in a sense that holds the rattled apostles together.
"I think of families, I think of organizations and social movements, women are the ones who bind, they are the advisers who steer the leaders who are often men. They have a steadfastness to them and they also speak truth, and that's what she does," Chung said.
Based on CP's viewing of the first episode in the 12-part NBC series, Chung delivers a Mary Magdalene who is a consoling yet confrontational force, comforting the disciples but also holding them accountable and putting them in their place.
In one scene, following Christ's crucifixion, an emotionally distressed Peter (Adam Levy) finds the apostle John (Babou Ceesay) and Mary Magdalene (and Jesus' mother Mary sleeping nearby) in a home. After embracing him, Mary asks, "Where were you, Peter?" — Even after hearing his reasons for denying association with Jesus after his arrest.
Peter does not give an immediate response. Instead, amid tears, he asks John, "Is He dead?"
"What difference does any of this now make if He's dead?" Peter continues, adding that the disciples essentially wasted the last three years of their lives following Jesus.
Mary tells him with a bit of fire behind her tongue, "His mother believes He will rise."
Peter, holding his left hand, responds, "I would give this arm to believe the same."
Mary's response to the apostle who Jesus famously renamed Peter, the Rock? — "I never had you for a coward. Never."
The first episode of "A.D. The Bible Continues" ("The Tomb Is Open") airs at 9 p.m. ET Easter Sunday, April 5 on NBC. The series picks up where 2013's massively successful mini-series "The Bible" left off, exploring how Jesus' core followers grappled with his death, spread his teachings and established a religion that today claims more than 2 billion adherents around the world.
Watch the official trailer for "A.D. The Bible Continues" in the video player below: