Will More Clerks Be Going to Jail? 2nd Christian Kentucky Clerk Defies Ruling to Issue Marriage Licenses to Gay Couples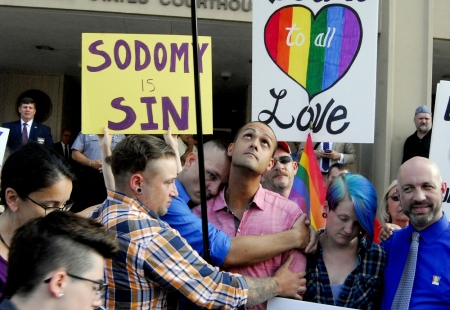 At least one county clerk in Kentucky is protesting the jailing of Kim Davis, saying she "does not deserve to go to jail."
Casey Davis, who is the county clerk for Casey County, says he will not issue same-sex marriage licenses either. "This woman has done nothing wrong," Davis told Wave 3 News in Kentucky earlier this week.
The Casey County clerk is currently using his own vacation time to bike 400 miles from Pikeville to Paducah to protest the public persecution of Christians.
"This is the job I was elected to," Casey Davis declared. "If the people of my county, my constituents, don't want me to have this job when I run again, they'll tell me that."
According to Wave 3 News, Casey Davis has proposed to Kentucky lawmakers that licenses should be issued by those officiating the wedding, and he says he's received support from some state lawmakers.
"I want to be able to be as free as they want to be," Casey Davis declared, comparing his conscience to those who wish to enter into same-sex marriages.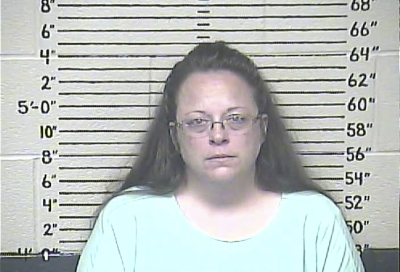 Seventy-five percent of Kentucky voters affirmed marriage as a union between a man and a woman in 2004. The vote has since been overturned by federal judges, and ultimately the U.S. Supreme Court.
Matt Bevin, who is the Republican candidate for governor in Kentucky, defended Kim Davis and criticized the current governor and attorney general for helping to create a climate where religious liberty is not protected.
"It is utterly unnecessary that Rowan County clerk, Kim Davis, is sitting in a jail cell when there is a simple solution that would respect the rights of every Kentuckian," declared Bevin.
"I first put this solution forward many weeks ago. Why the cowardly silence from our Attorney General Jack Conway? Jack Conway violated his oath of office as Attorney General when he refused to defend our state in court."
Bevin is running against Attorney General Conway in the race to succeed Democratic Gov. Steve Beshear.
"Where was our governor then demanding his resignation? The double standard applied in this case is reprehensible," said Bevin. "Jack Conway refused to defend our state constitution and now he is refusing to stand up for the religious liberties of our county clerks. This is unconscionable and, as governor, I will stand up for all Kentuckians, not just the ones who agree with me."
Bevin has stated that if he's elected governor he will remove the authority of issuing marriage licenses from county clerks.
Author Terry Mattingly of global journalism site Get Religion buttressed Bevin's argument in a post titled "Do Many Reporters Get Why Kim Davis is in Jail? Hint: Investigate Kentucky Laws."
"But what if there are people — liberals and conservatives — in the middle trying to find ways to obey the five justices on the U.S. Supreme Court, while also protecting religious liberty? When you read news accounts of these events, are you being allowed to read about what is actually happening at the state level to try to protect the rights of people on both sides?"
Pittsburgh theological professor Robert Gagnon shared a post on Facebook indicting the federal judiciary and controversial Supreme Court decision to redefine marriage.
"I am tired of hearing people claiming falsely that Kim Davis is abandoning the rule of law (a claim made even by some conservatives and Christians who should know better)," wrote Gagnon. (Davis is the Kentucky clerk who was escorted to prison in chains, for refusing to issue marriage licenses in order to avoid putting her name on licenses for homosexual unions.)
"It is the Five Lawless Justices of SCOTUS who abandoned the rule of law by pretending that they had the legislative authority not only to pass laws but even to amend the Constitution, which requires the consent of two thirds of both Houses of Congress and the concurrence of the legislatures of three fourths of the states," he added.