Willow Creek Megachurch Pastor Bill Hybels Preaches on MLK, 'Selma', Bible's Queen Esther Taking Stand, 'If I Perish, I Perish'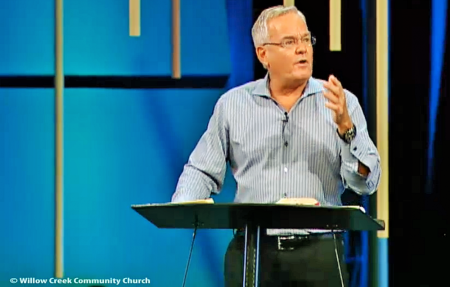 On the Martin Luther King Jr. weekend, Pastor Bill Hybels of Willow Creek Community Church urged the congregation to embrace differentness in others and take a stand about justice when needed, just as the civil rights movement leader did.
Hybels, the founding and senior pastor of the church in South Barrington, Illinois, began by talking about two basic kinds of wills, impulsive wills and reflective wills.
The impulsive will, he explained, is linked to our basic instincts, such as rage, hate, prejudice and revenge. The reflective will, on the other hand, "pushes the pause button," appeals to our higher angels, considers several other inputs from God that might influence what our eventual response will or should be, he said.
"If there was ever a leader with a reflective will, it was Dr Martin Luther King," Hybels said.
"His whole ministry was asking impulsive-willed men and women to slow down, push the pause button ... before you get a bias going, before you get some energy of hatred started, stop. Ponder the truth about human beings' value. Reflect on these realities."
The pastor said Dr. King would plead with people that human beings of all nationalities, ethnicities and colors had equal intrinsic value. "We all emanate from the same Heavenly Father, we all bear His image, we all have access to His grace, and therefore we all deserve to be treated with dignity and respect. And therefore no man, no woman has the right to demean, disrespect or do harm to another human being ever. And Dr King fought till his dying breath for equality, justice and respect for everybody."
Hybels urged the congregation to welcome differentness in other people and cultures and not to be prejudiced, saying we often generalize our experience with one person and paint the whole people group or race with the same brush.
He gave an example from Esther 3:8, which reads: "Then Haman said to King Xerxes, 'There is a certain people dispersed among the peoples in all the provinces of your kingdom who keep themselves separate. Their customs are different from those of all other people, and they do not obey the king's laws; it is not in the king's best interest to tolerate them.'"
The pastor said he recently took his congregation and church leaders to watch the movie, "Selma," the story of Martin Luther King. "Tough movie to watch," he said, but added it only shows what was true in the history.
He encouraged the congregation to do their part in preventing injustices to take place. Esther was asked, "What if God put you in your role as queen for such a time as this?" (Esther 4:14) And Esther responded, "I will go to the king, and if I perish, I perish."
Hybels then quoted Martin Luther King Jr. as once saying, "Our lives begin to end the day we become silent about things that matter."
"It's like Rosa Parks saying, 'I'm not going to move to the back of the bus. Throw me off the bus, arrest me, kill me,'" the pastor said. "There's a time when you got to take a stand... If I perish, I perish... Right thing needs to be done anyway."