Women Can Have a More Fulfilling Marriage if They're Submissive, Christian Author Says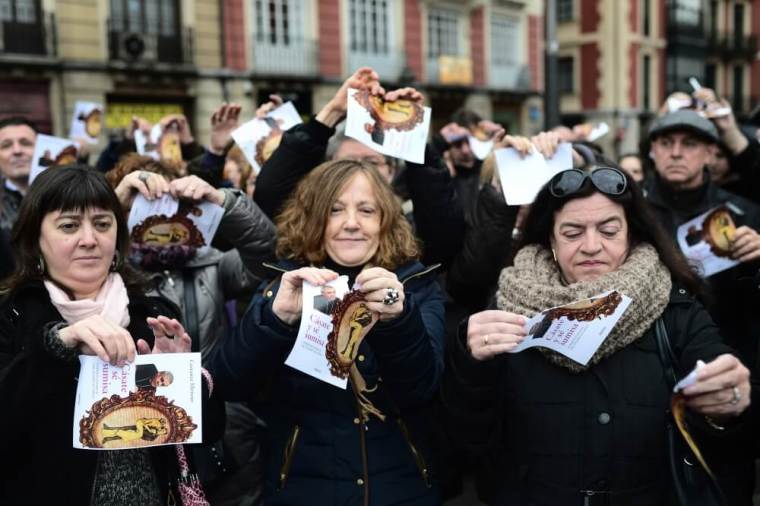 CP: Tell me a little bit about the uproar over your book in Europe. How did you handle that? Did you ever worry that women today would think your book was crazy or outdated?
Miriano: I am SURE that the majority of women find my book crazy and outdated. I never worry about that. They have grown up imbued with the idea, spread by any possible means (TV, press, the entertainment industry, now the internet), that you are happy if you do things for yourself. If you build your career, your shape, your power.
The truth is exactly the opposite: a woman is happy when she gives life. Not only in the sense of giving birth to babies, but in the sense of taking care of life. I have plenty of successful friends: journalists, doctors, actresses, engineers. … At some point of their life they found out they are alone. They refused the idea to depend on someone else. But the truth is that we do depend on someone else's glance.
We need to be loved. From God, first of all. And from a man, if we don't marry God (as Sisters do). I often receive criticism, by mail, in social networks (I shut down my Twitter profile; in Facebook, I block several persons each day because I do not tolerate insults in my profile, and there are pages against me). Sometimes when I go to speak in a theatre the police are waiting for me, to protect me. I find it funny. And I am worried for the policemen: I always think that they maybe need to go home to kiss their kids, so I try to speak faster.
CP: How many copies of your book have been sold so far in Europe?
Miriano: I think more than 200,000. Maybe for you it's not a big number, but for us it is. In Italy a book is considered a little success if it sells more than 3,000 copies, and it's very rare.
CP: You explain in your book that the modern woman struggles to find a road map to what it really means to be a wife due to the feminist movement. Do you think the Church is failing to influence women who are a majority in many congregations today?
Miriano: Even in the Church sometimes the worldly way of thinking strengthens its influence. I think there is nothing more sad than a feminist sister: she doesn't get the fun part of the liberation (sex, freedom, sexy dresses and Gucci shoes), without being a woman according to God, which is the only reason why it is beautiful to refuse sexy dresses.
But there is a mass of women, grown up thanks to the teachings of our Mother, the Holy Church, who are happy to be a wife, a mother, even a working mother, who is not afraid to say: I need my husband, I need protection. It's beautiful to depend on someone who loves me, who has chosen me. I owe my whole life to the Church: if I didn't grow up in a parish, learning the Church's teachings, I would be a very different person, surely unhappy.
CP: Have you done any presentations of your book in churches? How did that go?
Miriano: Yes, I did, many times. Even in cathedrals. For instance in Genova, in front of the president of the Italian Bishops Conference, S.E. Mons Angelo Bagnasco, who is the Genova Cardinal. The cathedral was full. They had to add chairs. When I speak in churches — it happens many times each month — it's easy! The hard part is when I go on TV, or in atheist realms.
CP: As a Christian father and husband, I found myself smiling and nodding my head as I read some of the advice you dole out in your book for wives. Do you find a lot of husbands agreeing with your advice? If yes, what advice to wives do husbands tell you is the most crucial of things you have said?
Miriano: I receive much feedback (email, messages, calls — my husband says I give my number too easily, that's because by phone it's quicker than by mail). They always thank me because they feel finally understood from their wives. The most crucial things, as far as I can comprehend, are the ones concerning the language.
"When I say that I'm not thinking about our relation's crisis, I'm just looking at the wall thinking I should paint it, my wife believes me, because she read your book" — they say. And many of them thank me because I always recommend wives dedicate attention to sexual life. When we become mothers sometimes we feel totally satisfied, and we forget to give attention to our husband.
CP: How about the wives? What do they find most helpful?
Miriano: You have to know that many groups were born in Italy after my book: their names are "submissive wives," "wives and mothers after vocation," or similar. They have meetings and they read my book or share their life experience. I think I helped them to welcome the difference between men and women. When a woman thinks her husband does not understand her, it is not because he doesn't love her. It's because he's a man. I help them to translate men language. "I put up a shelf for you." "I love you, too, my darling."
I also helped to recognize the temptation we all struggle with: we would control people around us. On the other hand men would avoid sacrifice. It's liberating to discover it's a struggle we all have to fight, not because we have chosen the wrong spouse, but because of human nature, wounded from original sin. And we can win the fight, just with the grace of the sacraments. Because our heart is created for God, and we need that kind of love. Immense, eternal, total. No human being can be enough for us (not even Brad Pitt).
CP: Hillary Clinton is gunning to become the first female president of the United States and it has been reported that some Apostolic Christians will never vote for her because she is a woman. What advice would you give Christians who share this belief?
Miriano: As far as I know from here, from Italy, I definitely agree. She is the representative, once again, as far as I know, of a vision of humanity who wants to be totally self-determinate: she thinks abortion is a right, for instance. And she received financing from Planned Parenthood. Definitely impossible to vote for her, for a Christian.
CP: What message do you want women and couples in general to take from your book?
Miriano: Marriage is hard work. Not because you have chosen the wrong person, but because of our fragility. You married someone coming from another planet, and you have to work hard to learn to love him the way he deserves. He is making the same effort for you. This hard work can lead to a masterpiece, at the end of your life, even when you see only mistakes and bad parts.
Why is it worth it? Because if you learn to love you meet God, who is the real spouse. We can't say we love God if we don't love our husband, our wife. And when we do something we wouldn't like to do, let's do it offering to God our heart, wounded, fragile, but made for eternity.