Women's March Laments Closure of Backpage.com, Infuriating Victims of Sex Trafficking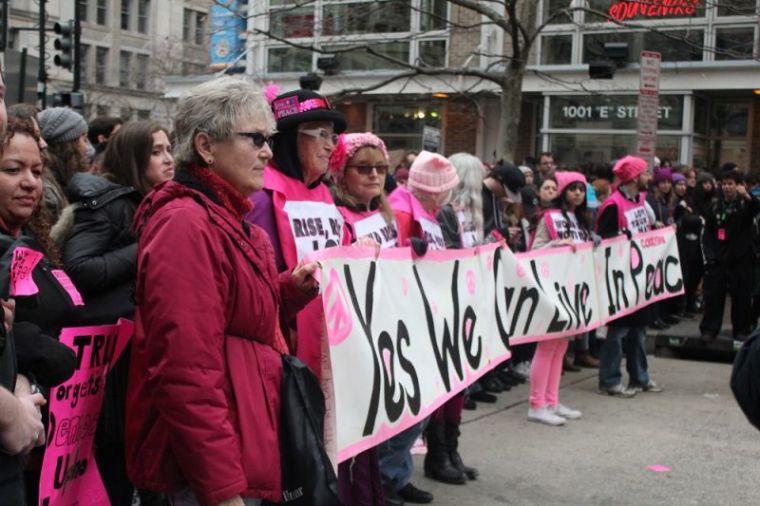 To the horror of many people whose views span the political spectrum, Women's March is lamenting the dismantling of Backpage.com, a website known for facilitating the trafficking of women and children for sex.
Writing on its Twitter page Saturday, Women's March — a group that spearheaded protest marches around the world the day after President Trump's January 2017 inauguration — said, "The shutting down of #Backpage is an absolute crisis for sex workers who rely on the site to safely get in touch with clients. Sex workers rights are women's rights," and urged their followers to follow several activist and like-minded groups.
Women's March maintained in a subsequent tweet that in the coming days they would share more about the rights of sex workers "to uplift this critical issue."
"We're all still learning and as always, we have to listen to the voices of those most impacted. #SexWorkIsWork."
The notion that the closure of a site that facilitated the buying and selling of human beings for sex is a negative development elicited shock, anger, and outrage from many people.
Lisa Thompson, vice president for policy and research at the Washington-based National Center on Sexual Exploitation, lambasted the group on Twitter upon hearing the news: "Prostitution is ground zero for #VAW (violence against women). There is no such thing as safe prostitution. Prostitution is THE bastion of misogyny. Stop defending men who buy women (and children and men)."
She mocked the group in another tweet suggesting the March rename itself something to reflect their stance on the issue like "WeStandWithSexTraffickers," "March4Misogyny," or "PimpingOutOurSisters."
Meghan Murphy, editor of Feminist Current, was perturbed, telling Women's March on Twitter: "How dare you claim to stand for women."
Likewise, Marian Hatcher, who was once a victim of trafficking and is presently the senior project manager and human trafficking coordinator at the Cook County Sheriff's Office, was repulsed. Hatcher was actively involved in the advocacy for the anti-sex trafficking bill known as FOSTA-SESTA that Congress recently approved and President Trump is expected to sign this week.
"Utter NONSENSE!!!" Hatcher said, adding, "Why does @womensmarch continue to perpetuate lies!!! SURVIVORS and CURRENT Victims of Prostitution and trafficking are statistically the majority. Patriarchy and $$ has brainwashed the minority's accepting violence against women (mostly of color) ITS NOT SAFE!!"
Christian recording artist Jennifer Michelle Greenberg, who is also an abuse survivor and advocate, did not hold back her disgust.
"According to Women's March, 'sex workers rights are women's rights.' It should be noted, #Backpage was shut down for human trafficking and child sex trafficking. The 'sex workers' these 'feminists' are defending are parasites in the bowels of America," she said.
Those who have long campaigned for the abolition of prostitution and argue against its legalization, such as author and journalist Julie Bindel, often explain that the terms "sex work" and "sex worker" are manipulative brainwashing.
Prostitution is not just another job, and to frame the exploitative act of sex for money as a legitimate form of labor obfuscates the issue, she argues in her latest book The Pimping of Prostitution: Abolishing the Sex Work Myth.
"Sex worker" might mean a prostituted person but can also refer to pimps, brothel owners, and escort agency operators.
Trafficking is merely a process within the context of the global sex trade, she said in England last fall while promoting her book, pointing out the incongruity of those who rail against the evil of trafficking but have no problem with legal prostitution.
USA Today reported Friday that the FBI shut down the Backpage.com site and raided the Sedona, Arizona, home of its co-founder Michael Lacey last week.
Federal authorities charged him Friday as part of a 93-count indictment, reports say. In the course of the investigation they found that internal company e-mails revealed that the website's employees tweaked ads with the intention of covering up illegal activity, knowingly facilitating the selling of underage individuals for sex.
According to a U.S. Senate report, Backpage.com raked in approximately $135 million in revenue in 2014.