World Series MVP Ben Zobrist: 'God Doesn't Measure Us by What We Do'
Even though Chicago Cubs all-star Ben Zobrist has won two World Series in the last two seasons and even earned the title of World Series MVP last Thursday, he knows that God does not measure his success by the number of championship rings on his fingers.
After the Cubs won the World Series last Thursday, the evangelical nonprofit organization Awana published an audio interview with Zobrist that was conducted before the end of the regular season in which Zobrist talked about his Christian upbringing and what it is like to be a famous and devout Christian athlete.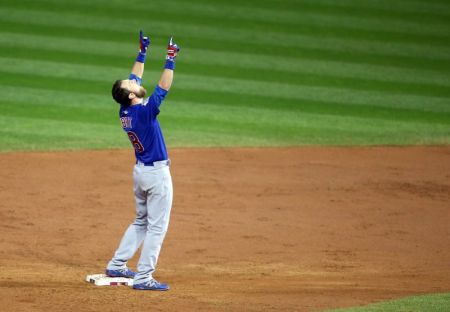 The 35-year-old Zobrist, who also won the World Series in 2015 as a member of the Kansas City Royals and is a three-time all-star, explained that even though he has earned much success in his 13-season MLB career, he does not place his hope solely in baseball.
"As a ballplayer, there is no Christian way to swing a bat. There is no Christian way to swing or throw," Zobrist explained. "You are either good or you're not at whatever your job is. And it is more important that you understand the grace and love and peace you have in Christ, whether you are good or bad at whatever you are doing every day."
"We are just so thankful that Christ does not measure us by what we do. God is not measuring us by that, He is measuring us by our faith in Christ," Zobrist added. "We are perfect. According to God, we are perfect, yet we know that we are sinners. We believe in the fact that we are both saints and sinners at the same time as we live in this world."
Even though Zobrist is the son of a pastor and has a national platform as a major league baseball player, he said he doesn't feel like he needs to always walk around proclaiming his faith in Christ, saying that "if you are walking with Christ, they can tell."
"My hope is not in how well I am living or how glorifying I am being to the Lord," he continued.  "[My hope] is in what Christ has already accomplished for me. If that is my hope, then I will worship the Lord and I will want to live the life that He wants me to live."
As many parents strive to groom their children to become successful athletes, lawyers, doctors or business professionals, Zobrist warns that people shouldn't be so willing to sacrifice their families and even their faith just to achieve their own personal dreams.
"I think the goal for us is to be faithful, not famous," Zobrist said. "Our culture wants us to be famous. Everybody wants to be famous. You want to be the best you can possibly be and I want to be the best I can possibly be but only within what makes sense for a believer."
"I think people sacrifice for their job. They sacrifice their family, they sacrifice their faith, they sacrifice everything that should be near and dear to them for their success in this life, and for money and fame and whatever else they are seeking after," Zobrist added. "That is a tragedy. I think we have to remember that we do want to give our kids privileges and pursue something but remind them that more than anything, success is what God says it is."
Zobrist reminded listeners that the biblical definition of success is sacrificing one's self for the benefit of others.
"According to the Lord, the most glorified person in the Bible is Jesus. What did He come to do? He came to sacrifice and suffer for our sake," Zobrist said. "Success is really not about us rising to the occasion as much as it is about us dying to the occasion and giving to someone else."
"To me, if I play baseball and I become a great athlete and I win World Series and I'm an all-star and all this stuff that I have accomplished, and yet I sacrificed other people or I sacrifice my family on the altar of my own personal success, then I have just really blown it," Zobrist emphasized. "[God] can rescue anybody, but the point is that is not my goal. My goal has got to be a godly view of what does God want me to use this gift and ability for. It should be to give to others and to sacrifice and to bear my cross for whatever He has called me to."