'We will fight': Planned Parenthood protests as pro-life groups celebrate Supreme Court overturning 49 years of Roe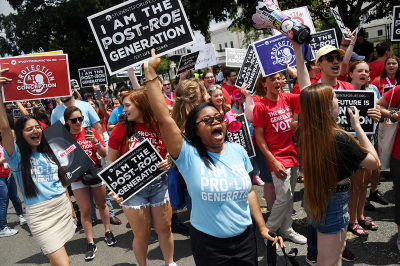 Alliance Defending Freedom 
The nonprofit legal organization Alliance Defending Freedom's statement highlighted how its attorneys helped draft and defend Mississippi's Gestational Age Act, helping to bring about the historic ruling. 
ADF's statement noted that the U.S. is an "extreme outlier" when it comes to abortion laws and policies. Citing research from the pro-life Charlotte Lozier Institute, ADF noted that the U.S. is one of only six nations — including China and North Korea — that allows abortion throughout nine months of pregnancy. It is also one of only eight countries in the world to allow elective abortions past 20 weeks. 
The Supreme Court's decision is a major victory for unborn children and their mothers," ADF General Counsel Kristen Waggoner said. 
"Laws across the country can now affirm that life is a human right and ensure women have greater access to the support and resources they need and deserve. We now turn to the states to ensure that unborn children and their mothers are protected from the gruesome reality of abortion, and that they receive the care and resources they need to flourish."
ADF Senior Counsel Erin Hawley added that the court "corrected a historically bad mistake in its precedent." 
"Today's decision is a win for life and for the Constitution. There is not, and has never been, a constitutional right to take the life of an innocent, unborn child," she continued.