'Genocide Games': Trump officials, freedom advocates react to Biden's boycott of Beijing Olympics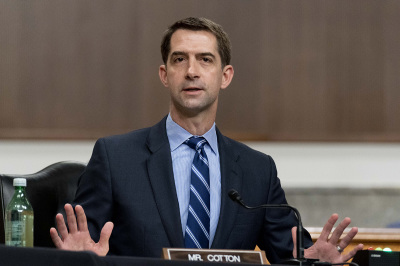 Cotton calls diplomatic boycott' half measure'
Republican senators have expressed differing perspectives about the effectiveness of a diplomatic boycott.
Sen. Tom Cotton, R-Ark., shared Haley and Pompeo's lack of enthusiasm. In a statement published Monday, Cotton, widely viewed as a contender for the Republican presidential nomination in 2024, alleged that "the President has once again opted for a half measure, when bold leadership was required." 
"The United States should fully boycott the Genocide Games in Beijing," Cotton stated. "American businesses should not financially support the Chinese Communist Party and we must not expose Team USA to the dangers of a repugnant authoritarian regime that disappears its own athletes."
Cotton discussed his concerns further in an appearance on Fox News Tuesday.
"What I'm worried about is the safety of our athletes. I sent the Biden administration a letter last summer asking them … how they would assure the safety of our athletes," he said. "They sent me back a letter, through restricted channels, that there was nothing classified about it, and they had no plan to protect our athletes,  whether it's from ubiquitous technical surveillance of their electronic devices or DNA harvesting under the guise of coronavirus testing or an outright kidnapping."
"[If] China will take hostage and disappear one of its own tennis stars and trot him out for hostage videos, what will they do to one of our athletes if one of those young men or women should dare speak up about Tibet or Hong Kong or Taiwan or any of China's crime against the civilized world?" he asked.
"If we can't protect our own athletes, we should not be sending them to compete in the games of a country that's committing genocide."