This content is paid for by an advertiser and published by CP Brand Solutions. The Christian Post newsroom was not involved in creating this content. Learn more about CP Brand Solutions.
'Journey to Hell': Is Hell Really Real?
The film comes at a time of great upheavel over whether hell exists. Over 50% of American Christians no longer believe in hell. What is going on?
"Hell is real," says Director Tim Chey. "It's very clear from Scripture. I wish hell didn't exist. I weep for my family members who rejected Christ that I will never see them again."
According to Chey, the film actually has a happy ending.
"Many have come to Christ through this film," he says. "We've had alter calls and this film is having a great impact for Jesus."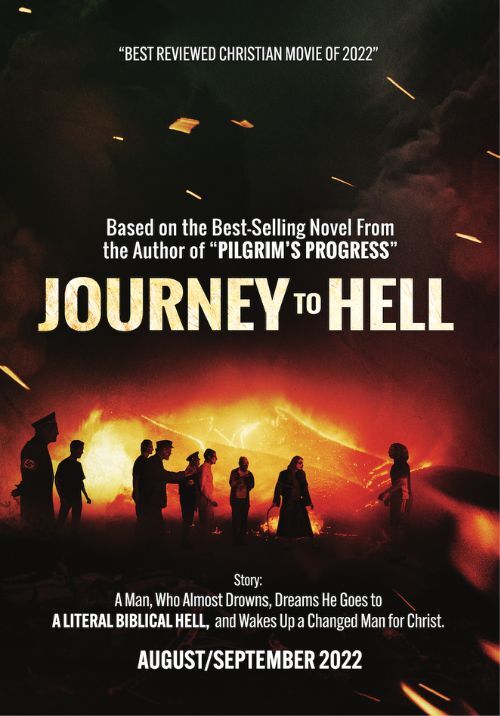 Journey To Hell
See the Live Reaction Here
The film is based on the best-selling, highly-acclaimed classic novel by John Bunyan about a man who almost drowns and dreams he goes a literal hell and wakes up a changed man for Christ.
"Jesus spoke more of hell than anyone in the Bible," continues Tim Chey. "And I love Charles Spurgeon who said let's do everything we can to stop people from going there."
Even if it means waking up the sleeping church?
"It's scary how many Christians I've spoken to who don't believe in hell," says Chey. "Is it any wonder why you can't even tell the difference anymore between a true Believer and an agnostic?"
Chey is a former athiest when he went to Harvard and later when practicing law. He became a filmmaker following his passions and is the most prolific Christian producer/director of over 15 movies, including 'Freedom' (Cuba Gooding, Jr. Sharon Leal), 'The Islands' (Mira Sorvino, John Savage), and 'Interview with the Antichrist'.
"It's all about Jesus," says Chey. "I'm a nobody and the chief of sinners. But the blood of Christ saved me and I understand how awesome and merciful God is. I deserve hell more than anyone on this planet, but God forgave me. He wants no one to go to hell. Hell is actually the incredible manifestation of God in showing his justice. How can Kim Il Sung who murdered over 200,000 Christians in North Korea go to heaven? What kind of God would that be? Think long and hard about that."
About RiverRain Productions
RiverRain Productions is one of the top faith-based film studios in the U.S. of over 15 feature films. "Journey to Hell' opens in select cities on August 5, 2022.
Denver
BUY TICKETS @ Harkins Arvada 14
BUY TICKETS @ Harkins Northfield 18
BUY TICKETS @ Regal Southglenn Denver
BUY TICKETS @ Regal Denver Pavilions
Colorado Springs
BUY TICKETS @ Regal Colorado Springs
BUY TICKETS @ Regal Interquest Colorado Springs
Phoenix
BUY TICKETS @ Regal Gilbert
BUY TICKETS @ Harkins Arizona Mills 18
BUY TICKETS @ Harkins Chandler Fashion 20
BUY TICKETS @ Harkins Christown 14
BUY TICKETS @ Harkins Gateway Pavilions 18
BUY TICKETS @ Harkins Superstition Springs 25
Honolulu
BUY TICKETS @ Regal Dole Cannery
BUY TICKETS @ Ward 16
BUY TICKETS @ Regal Kapolei Commons
BUY TICKETS @ Consolidated Pearlridge
BUY TICKETS @ Regal Pearl Highlands
BUY TICKETS @ Consolidated Kapolei
BUY TICKETS @ Consolidated Mililani