Carmelo Anthony, Joakim Noah Target to Depose LeBron James, Cleveland Cavaliers in 2016-17 NBA Season: Can New York Knicks Deliver?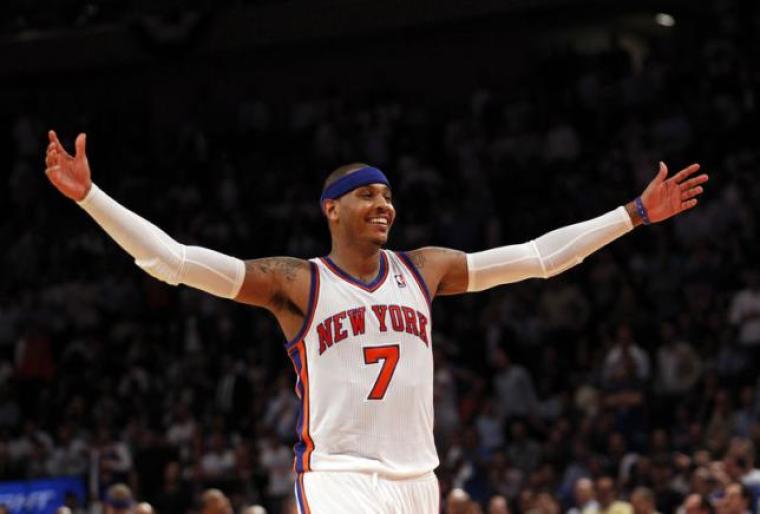 The New York Knicks have bigger goals in the 2016-17 NBA season. Forward Carmelo Anthony and center Joakim Noah revealed that they are focused on toppling their biggest obstacle in the Eastern Conference – LeBron James and his championship-winning squad.
Knicks' Ultimate Goal
Noah told Frank Isola of New York Daily News that their ultimate goal is to make a real run for the NBA championship title by defeating James and the Cleveland Cavaliers. The 31–year-old center admitted deposing the reigning champion is a difficult task, but that has been their mindset heading into the 2016-17 season.
Noah, who signed with the Knicks during the free agency period, pointed out that the upcoming season will be all about beating James. He explained that in order for the Knicks to get where they want to, they needed to dethrone the NBA Finals MVP and his team in the Eastern Conference.
With a player like Noah in the Knicks, Anthony believed that they have a good chance of hitting their target in the upcoming season. Per ESPN, the 32-year-old small forward said that Noah brings a different dynamic to the team.
Anthony commented that the Knicks' new recruit brings intensity and a sense of confidence. He explained that Noah pushes them mentally and forces every member of the team to compete on the court at a high level.
Can the Knicks Deliver?

Anthony shared to Al Iannazzone of Newsday that he is optimistic and confident about the upcoming season because he is in his best shape and he is surrounded with talented players. He said that most of the pressure will be on him but he is ready to embrace it.
Colby Giacubeno of HoopsHabit commented that the Knicks will have the chance to defeat the Cavaliers if their key players Anthony, Noah and point guard Derrick Rose will stay healthy. He added that the Knicks are expected to hold a high standard in the upcoming season as they focused on dethroning James and the Cavs.
But Jorge Sierra of HoopsHype made a lukewarm prediction for the optimistic team. He projected that the Knicks will end up third in the Atlantic Division and seventh in the Eastern Conference of the upcoming season.
Sierra acknowledged that Anthony is a scoring machine while Noah is a plus factor on the defensive end. However, he added there are too many alpha males in the roster and it will take some time before the chemistry works. He also stressed that Rose and Noah have struggled with efficiency and health in the past seasons.