Chris Brown, Drake Collaborating on New Music? Pair 'Cool' After Brawl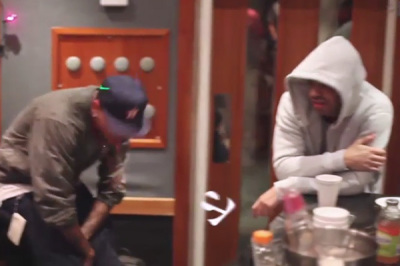 Chris Brown and Drake recently sparked collaboration rumors after video footage of the pair working in the studio surfaced online.
On Thursday Brown, 24, posted a video to his website of himself with Drake, 27, hanging out and laughing in a recording studio, but within hours, it was abruptly removed. The video caption instantly raised questions about whether the former rivals are working on new music together.
"Breezy spends lots of time in the studio and loves hangin and collaborating with some of the biggest names in the music industry including Drake, The Game and Justin Bieber," the caption read.
The news comes more than one year after the "Don't Wake Me Up" singer got into a violent brawl with the "All Me" rapper inside a New York City nightclub. Drake reportedly sent Brown a note claiming he was involved with Rihanna, who was Brown's love interest at the time, which allegedly triggered a brawl between both of their entourages.
The pair appears to have moved past the incident, which left several people seriously injured, as a source previously revealed Drake, real name Aubrey Drake Graham, is open to a collaboration with Brown.
"If it's something Drake wants to do and the beat is right and the lyrics are on point, he would go there. For sure he would," a source told HollywoodLife.com.
"He and Drake ain't got no more issues. They're cool.They're not trying be at war anymore, it's about squashing all that drama and making money and shelling out hits," another source explained. "Rihanna's in another world touring, getting her bread and lighting it up for her fans."
In August it was claimed that Drake and Rihanna enjoyed a romantic night out just three months after the Bajan singer's widely publicized split from Brown. The rapper reportedly treated Rihanna to a romantic dinner date at Sons of Essex in New York City and witnesses claim the pair ended the night with a kiss.
"He was such a gentleman. He had one of his muscle [bodyguards] scoot her chair back, he stood up after she did and he told her she 'looked beautiful as always,'" an alleged onlooker revealed.
"He gave her a hug and kissed her on the cheek," the source said. "It wasn't nothing major, it was just Drake being himself."
Brown has reportedly since moved on with his on-and-off girlfriend, Karrueche Tran, 24.