'Dancing With The Stars' Season 20: Week 6 'Spring Break' Performances and Scores Recap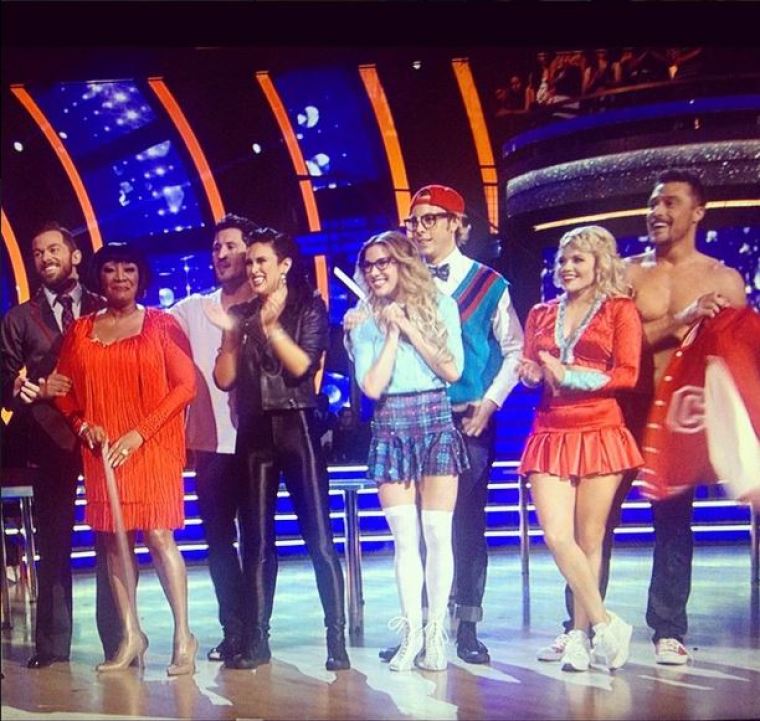 Spring Break comes to "Dancing With The Stars" as the couples performed dances to various spring break-inspired songs. Monday night also presented an additional challenge for everyone as they took on two routines, one for the couple's dance, and another for the group dance. The competition continues to heat up which resulted to some stressful moments during rehearsals, and at the end of the night, one of the pairs was sent home.
Here's how the couples fared in week 6 of "Dancing With The Stars":
Patti LaBelle and Artem Chigvintsev
Dance: Quickstep to "Heatwave" by Martha and the Vandellas
Score: 29 (out of 40)
The legendary moved smoothly on the dancefloor even when she lost a shoe at one point during the routine. "No one will give us more fun and entertainment as you just did," said Julianne Hough.
Nastia Liukin and Derek Hough
Dance: Tango to "Summer" by Calvin Harris
Score: 34
The judges gave mixed feedback for the pair's tango. Bruno Tonioli praised the intensity of their performance and said, "That's how you attack a tango!" Julianne Hough commented on the lack of chemistry and felt that they "didn't connect as a couple."
Willow Shields and Mark Ballas
Dance: Salsa to "Tequila" by The Champs
Score: 34
Carrie Ann Inaba said that their performance was "sassy" but not overtly sexy, and Len commended them on their lifts.
Robert Herjavec and Kym Johnson
Dance: Jive to "Surfin' Safari" by The Beach Boys
Score: 28
The pair's '50s-themed dance routine made Carrie Ann say that although the pair was in step, they weren't in time to the music, while Len noted that their performance was "better than last week."
Noah Galloway and Sharna Burgess
Dance: Rumba to "Waves" by Mr. Probz
Score: 29
Sharna was concerned that the slow dance would be hard for Noah, but the army vet was able to do some smooth moves throughout the routine. Len said that Noah "never ceases to amaze him."
Rumer Willis and Valentin Chmerkovskiy
Dance: Jazz to "Bootylicious" by Destiny's Child
Score: 32
Though the pair's routine was flawless, the judges griped that the dance was too sexy. "This is a ballroom, not a bedroom!" Len exclaimed. Julianne said that she was underwhelmed because she expected more from them.
Chris Soules and Witney Carson
Dance: Viennese Waltz
Score: 31
The judges were in awe of Chris' improvement this week as Julianne called him over to the judge's table for a high-five and told him, "You were so confident out there, I am so proud of you."
Riker Lynch and Allison Holker
Dance: Samba to "Want to Want Me" by Jason Derulo
Score: 38
Their energetic samba elicited raves from the judges as Len called Riker "the future of dance" and Carrie Ann told him, "You make music with your body."
Team Dances
Team YOLO
Nastia (Team Captain) and Derek, Willow and Mark, Noah and Sharna, Robert and Kym
Song: "Wipeout" by The Beach Boys
Score: 39 (out of 40)
Though Nastia was out of town for most of their rehearsal time, the group delivered a fun and cohesive performance. Bruno said that the dance's structure was "superb" and Len said that it was "tight, together, and terrific" from start to finish.
Team Trouble
Rumer (Team Captain) and Val, Patti and Artem, Riker and Allison, Chris and Witney
Song: "Trouble" by Iggy Azalea and Jennifer Hudson
Score: 39
The group danced a "Breakfast Club meets Grease" routine which impressed the judges. "That was so cleverly put together, and I have to say Chris, this was your breakthrough night," said Bruno. Len said that Riker reminded him of himself back in 1959 when he was in highschool.
In the end, Patti LaBelle was eliminated from the competition.
"I am honored to be here as long as I've been," said LaBelle to Erin Andrews. "I've learned so much about me. I found a great friend in Artem. To the judges, thank you so much, I'm happy!"
Artem complimented his partner, saying, "I had the most incredible six weeks of my life with Patti because she's such a role model for women out there and she inspired me. Whatever she touches turns to gold."
"Dancing With The Stars" airs on Mondays at 8 p.m. on ABC.