'Dancing With the Stars' Season 20: Week 7 'Eras Night' Performances and Scores Recap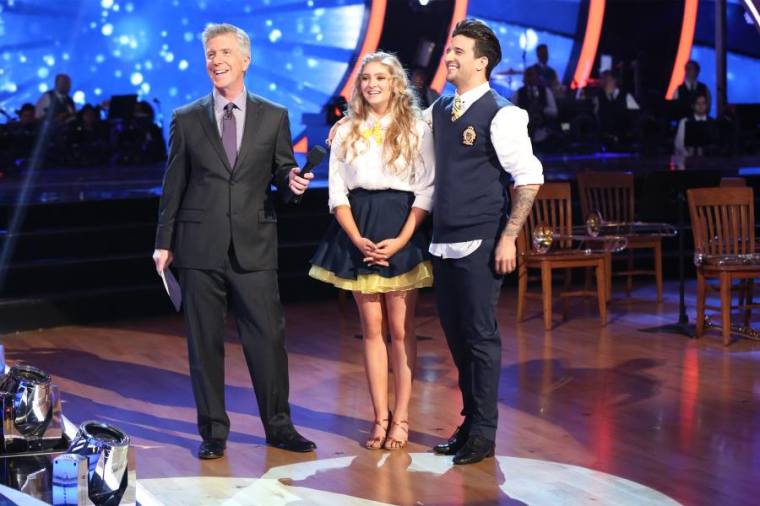 It was Eras Night on last Monday's episode of "Dancing With the Stars," and though it was a night of absolutely great performances, including a dance-off between pairs, a shocking elimination stunned the crowd and the judges.
Here's how they fared in week 7 of "Dancing With the Stars":
Riker Lynch and Allison Holker
Dance: 1920s Quickstep
Score: 37 (out of 40)
The pair kicked off the night with a baseball inspired quickstep with an amazing tap session. "You two are so innovative and versatile every single week," said Julianne Hough. "It was absolutely brilliant!" Bruno Tonioli said.
Chris Soules and Witney Carson
Dance: 1940s- Foxtrot
Score: 31
The pair seemed happier and more at ease during rehearsals after they got better scores last week. Of their foxtrot, Julianne said, "That won't be your last dance. That was awesome!" Carrie Ann Inaba said that Soules was the underdog of the season but he's gaining momentum.
Rumer Willis and Valentin Chmerkovskiy
Dance: 1960's- Jive
Score: 35
Rumer was visited by her father, Bruce Willis, during rehearsal and the actor praised his daughter and said that seeing her so happy made him cry. Though Rumer injured her neck during rehearsal, she gave an almost perfect performance. "It just felt a little bit safe," said Julianne of their dance.
Noah Galloway and Sharna Burgess
Dance: 1970's- Jazz
Score: 36
Olympian and double amputee Amy Purdy, a season 18 contestant on "DWTS," visited Noah during rehearsals and gave him some advice to improve his performance. The visit certainly helped as the judges were amazed with their routine. "That was insane!" cheered Carrie Ann. "You may have half the limbs of most guys, but you're twice the man," said Len Goodman.
Robert Herjavec and Kym Johnson
Dance: 1980's- Argentine Tango
Score: 31
The pair's close bond was an advantage for their tango as Len told them, "Your dancing is like chutes and ladders. One week you're up, one week you're down. This week you're up."
Nastia Liukin and Sasha Farber
Dance: Modern Day- Charleston
Score: 38
Due to an ankle injury and a broken toe, Derek Hough had to sit this one dance out and let Sasha take over, but Derek still helped by choreographing the dance. Bruno said it was "a revelation of a dance." Carrie Ann got up and gave Nastia a hug because she was so proud of her.
Willow Shields and Mark Ballas
Dance: The Future- Jazz
Score: 37
Their ninja themed dance prompted Bruno to say, "My little crouching tiger is now a master of the martial arts!" "I thought it was fantastic," said Julianne.
Dance Off
For this round, pairs had to dance off against each other for bonus points. Nastia and Sasha were excepted as they had the highest scores.
Riker and Allison vs. Willow and Mark
Dance: Salsa
"It's like choosing between vanilla and chocolate, it's so hard," said Bruno. 68 percent of Twitter voters voted for Riker and Allison, but the judges voted for Willow and Mark, giving them 2 extra points.
Noah and Sharna vs. Robert and Kym
Dance: Cha-Cha
"Both of you did so well, I'm still thinking about it," said Julianne. Noah and Sharna won as Twitter gave them 69 percent of the vote and they got three votes from the judges,
Rumer and Val vs. Chris and Witney
Dance: Foxtrot
"Both of you were fantastic but one of you, hands down, stole the show," said Carrie Ann. Rumer and Val won.
During the elimination, it was announced that Rumer and Willow were not safe. The judges were stunned as well as the audience because both of them got consistent high scores throughout the season. In the end, Willow Shields was eliminated.
"I just want to, first of all, say a big thank you to Willow for being an incredible partner," said Mark. "She's only 14 guys, she's out there dancing, keeping up with everybody. I couldn't be more proud."
Host Tom Bergeron jumped in and asked, "Could I not be a TV host for one minute? Could I just be a dad?" as he gave Willow a hug.
"Dancing with the Stars" airs on Mondays at 8 p.m. on ABC.