'Days of Our Lives' Spoilers, Plot News for Week April 13 to 17: Tori Reveals Everything About Paul's Father
Last Friday on "Days of Our Lives," Sonny tells Paul that his mother has been in Salem before. Paul calls his mother and asks her to meet him.
At Will's place, he manipulates John's perception of what really happened with him and Paul. He says that he really wants to fix his marriage and that Paul was bent on destroying his relationship with Sonny.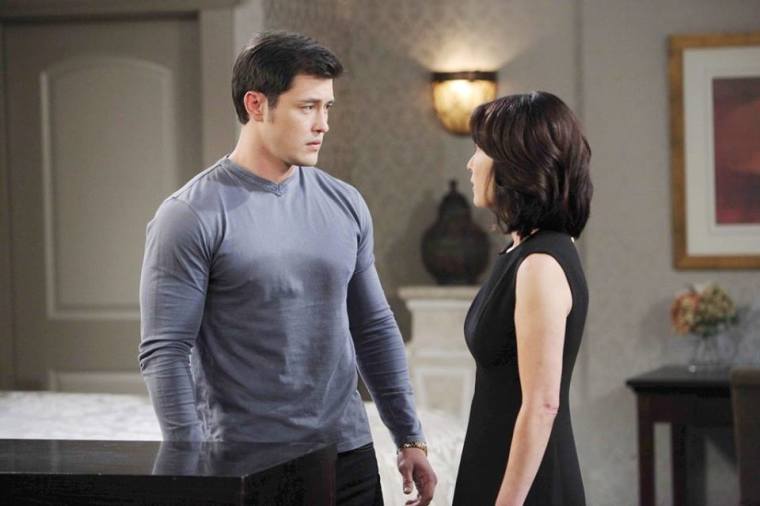 In Paul's hotel room, Marlena tells Tori that she ought to tell John and Paul that they are father and son. Tori says that she doesn't feel that it's necessary to discuss her past, and she lies and says that Paul's father isn't from Salem and is dead. Marlena then tells Tori that if that's true, then she shouldn't have a problem with her telling John that he's Paul's father.
At TBD, Paul asks Sonny to get Will there. Sonny calls and Will and John leave for TBD. Tori arrives, and when she gets an inkling of what's about to happen, she attempts to leave but Paul tells her to stay. Outside, Marlena meets John and Will. As they head in, John says that he's glad that "that jerk" Paul is leaving Salem.
Inside, Paul confronts his mother as Will and Sonny watch. Marlena and John arrive and John greets Tori. Confused, Paul asks John how he knows his mother, and John is surprised when Marlena tells him that Paul is Tori's son. Suddenly, the truth dawns on him and Tori confesses that John is Paul's father.
Here are the "Days of Our Lives" spoilers for April 13 to 17:
April 13 (Monday): Tori reveals everything about Paul's father; Will is bothered when Sonny decides to support Paul.
April 14 (Tuesday): Kristen bears a huge secret; Melanie gets news about Theresa; Theresa causes trouble for Daniel and Nicole.
April 15 (Wednesday): Daniel is shocked to learn Nicole's date was with someone he knows; JJ confronts Eve.
April 16 (Thursday): Brady turns to Victor for help; Theresa and Nicole get into a fight; JJ and Paige take a step forward in their relationship.
April 17 (Friday): JJ delivers information about Eve to Jennifer; Eve reacts to news about JJ and Paige.
"Days of Our Lives" airs from Mondays to Fridays at 1 p.m. on NBC.