Desperate Texas Couple Considers Divorce to Afford Health Care for Sick Daughter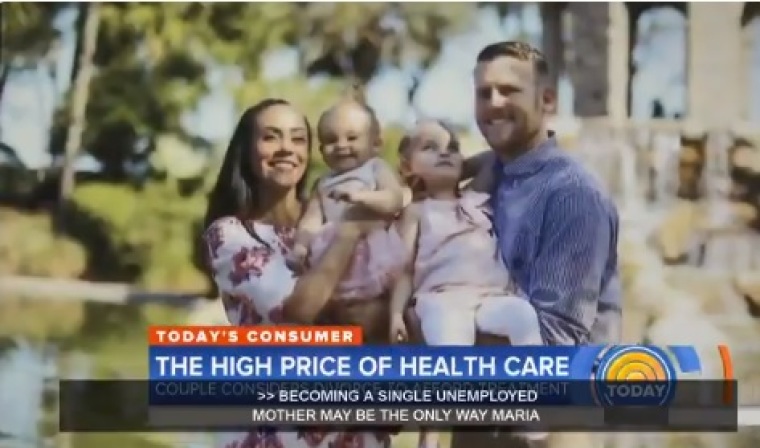 A couple from Texas will do whatever they can to make sure that their disabled daughter will get all the medical care that she needs, even considering to file for divorce.
Maria and Jake Grey of Sanger, Texas told ABC News' WFAA that they are financially struggling to pay for all the medical expenses of their 6-year-old daughter Brighton, who has a rare chromosomal disorder.
According to the Greys, they had to shell out more than $15,000 annually for her health care on top of their health insurance.
Brighton's rare chromosomal disorder is called the Wolf-Hirschhorn Syndrome. According to the National Center for Advancing Translational Sciences of the US Department of Health & Human Services, this condition is a genetic disorder that affects a lot of body parts. It reportedly comes with a recognizable facial appearance, delayed growth and development, low muscle tone, intellectual disability, as well as seizures.
Because of her condition, Brighton's developmental abilities are equivalent to that of a newborn child. She also has vision and hearing impairment, kidney and heart problems, seizures, and other diseases. This means that she would need extensive care round the clock.
Aside from the challenges of caring for their daughter, the couple also feels the toll of Brighton's healthcare financially. "I used to get anxiety just opening the mail because I was scared of what would come or what bill would come or what denial would come," Maria said while sobbing.
Since Jake is an Army veteran, he is able to make $40,000 a year. This made them disqualified from filing for Medicaid to help pay for Brighton's treatments.
They also have the option to file for state assistance, but they will have to wait for a long time since there are a lot of others who also lined up to get some financial help. According to the report, Brighton is currently number 59,979 on the list.
That is why they were contemplating an extreme option at the moment, where Maria and Jake have to end their marriage even if their relationship is still intact.
"It would just be to get a divorce. It would be to not be together to get our child what we need," Maria said.
If they file for a divorce, Maria could be recognized as a single, jobless mother of two since they also have a 2-year-old daughter named Fairen. This will make Brighton qualify for Medicaid. "We've just struggled and struggled with it, and now we've gotten to the point, where we feel it's a real possibility," Jake also said.
While both parents believed that what they were thinking was morally wrong, they sometimes feel like they have no other choice. But they both told Today in an interview that they did not make their story public to ask for donations. Instead, they claimed that they want to spark change in the nation's health assistance.
"We are not looking for charity," Maria stated in the interview as reported by People. "We're not looking for money or donations. We don't want a Go Fund Me, we don't want any of that. I need the state to step up and give me the benefits that I need," she added.