Father's Day 2016 – Celebrity Dad Quotes from Hugh Jackman, David Beckham, Channing Tatum and More That Will Warm Your Heart
Pres. Obama, Brad Pitt, Johnny Depp, Chris Hemsworth Tell Their Views About Fatherhood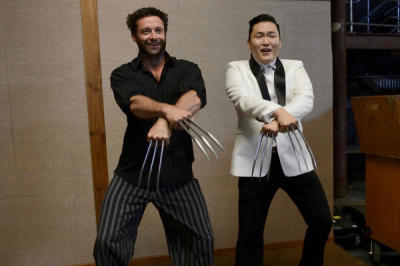 Celebrity dads and their connection to their children is special the same way normal dads share a bond with their kids too. Here are some quotes from top celebrity fathers to give you a understanding of how they also cherish their children the same way dads do.
Brad Pitt: "That's the emotional bond and responsibility that sweeps over you when you have a family to look after. I care about them more than I care about myself, which I think is the real definition of love. You see past yourself and become more generous and giving, and wanting only the best for your family."
Matthew McConaughey: "Never is a man more of a man than when he is the father of a newborn...You know what's important. I definitely got more selfish. And at the same time, I think I got more compassionate."
Hugh Jackman: "When I come home, my daughter will run to the door and give me a big hug, and everything that's happened that day just melts away."
David Beckham: "My greatest achievement is my family. What matters is being a good father and a good husband – just being connected to family as much as possible. Being a dad is more important than football, more important than anything. I adore children. I love the fact our children are part of both of us. It's one of the most amazing things ever."
Jay Z (through his song "Glory"): "The most amazing feeling I feel / Words can't describe the feeling, for real / Baby, I'll paint the sky blue / My greatest creation was you."
Channing Tatum: "I don't think you can prepare. It's a bit of a freestyle. [My parents] weren't perfect. I don't know anyone who did have perfect parents. It's provided me with lessons I'll try to improve upon when I'm up to bat. I'm just going to be a good friend to my kid. One thing I definitely want to change is that whole 'I don't want you to make the same mistakes' mentality."
Tyga: "It's a great accomplishment to have a mini version of yourself. You don't owe the world anything, but when you bring a beautiful child like this into the world, you know that you've got a lot to live for."
Johnny Depp: "I didn't have a real handle on what life was supposed to mean or be or anything like that. And I still don't. And I'm not sure that life is supposed to mean anything or be anything at all. But as long as you have the opportunity to breathe, breathe. As long as you have the opportunity to make your kid smile and laugh, and move it forward."
Chris Hemsworth: For the first time, it's not about me anymore. This internal dialogue about my own boring story isn't at the forefront of my thoughts. It's about them now, their welfare."
Then of course, we couldn't let the US President off our radar since he's a doting father.
Barack Obama: "What I've realized is that life doesn't count for much unless you're willing to do your small part to leave our children — all of our children — a better world. Any fool can have a child. That doesn't make you a father. It's the courage to raise a child that makes you a father."