'Game of Thrones' Season 5: Episode 3 Recap 'High Sparrow'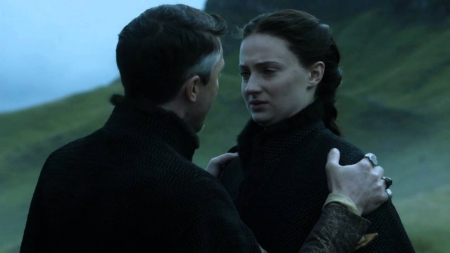 Change is coming to "Game of Thrones" this season as the show's third episode, "High Sparrow" featured some stunning developments in the show, and one particular storyline appeared to swerve from George R.R. Martin's books.
Sansa Stark has been a captive of several powerful and manipulative men throughout the series, and in last Sunday's episode, we finally learn what Littlefinger is planning for her—a match between her and Winterfell's current occupant, Ramsay Bolton. Sansa is hesitant about this as it can be recalled that Bolton engineered the slaughter of her brother, Robb Stark, in the infamous Red Wedding. But by marrying Bolton, she could be in place to reclaim Winterfell.
"You've been a bystander to tragedy from the day they executed your father," said Littlefinger. "Stop being a bystander, do you hear me? Stop running," he tells Sansa.
In Martin's version of events, Ramsay weds "Arya Stark", who isn't Arya at all but her childhood friend Jeyne Poole.
Meanwhile, Arya is still at the House of Black and White and is under strict orders to "become no one." She helps do the chores, but is still being reprimanded for being Arya Stark. Later, she changes out of her usual attire and wears plain garments. She drops her things into the ocean and hides her sword in a pile of rocks near the water.
Jon Snow is now the Commander of the Night's Watch on the Wall. Though he's a good fighter, he appears to be unpopular with some of the men because he was sympathetic to the wildlings. When a man questions his authority as commander and refuses to follow his commands, Jon responds by cutting the man's head off and ignores his pleas for mercy.
As for Tyrion Lannister, he is in Essos and he has convinced Varys to take him out of the carriage and into the city of Volantis so that he can find a drink and a brothel. Later, he gets kidnapped by Jorah Mormont, Daenerys' former adviser. Jorah takes Tyrion away and gets him to a boat to take him to Daenerys, which has always been Tyrion's plan.
"Game of Thrones" airs Sundays at 9 p.m. on HBO.