George R. R. Martin Net Worth 2016: How Rich is the Bestselling Author After the Colossal Success of 'A Song of Ice and Fire' Book Series & HBO's 'Game of Thrones'?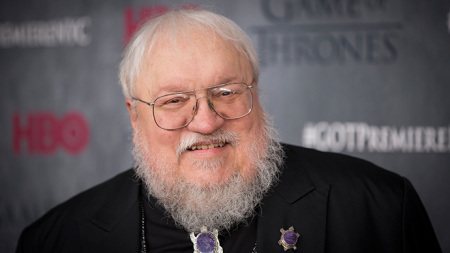 George R. R. Martin is the author behind the epic fantasy book series "A Song of Ice and Fire" (ASOIAF) and the critically acclaimed HBO drama "Game of Thrones" (GOT). After ASOIAF and GOT attained colossal success in the past years, how rich is the bestselling novelist now?
GRRM's Net Worth for 2016

Per Mark Kurlyandchik of Celebrity Net Worth, GRRM has an estimated net worth of $65 million as of 2016. The 68-year-old New Mexico resident is among the highest earning authors in the world at present, with an estimated income of $10 million in book royalties per year. He also receives an estimated salary of $15 million per season as executive producer of HBO's GOT.
Martin's ASOIAF novels sold more than 25 million copies worldwide. Moreover, GOT, the television adaptation of the epic fantasy book series, engaged millions of viewers since it premiered in 2011. As of press time, the book series has already five novels while the television adaptation completed six seasons.
Moreover, NetWorths.org has a lower estimate on GRRM's 2016 net worth. The website estimated the author's net earnings at $50 million. These earnings mainly came from the sales of ASOIAF novels, as well as the royalties and salary from HBO's GOT.
Statista's data showed that Martin has already earned a total of $60.5 million in HBO royalties from May 2011 to June 2016. The author received an estimated royalty of $15 million in 2012. He also earned $12 million per year from 2013 to 2015 and $9.5 million this year.
Simple Life

Despite making millions of dollars per year, Martin continues to live a simple and frugal life. According to Kurlyandchik, Martin still lives in a fairly modest home in New Mexico and drives an outdated model Mazda RX-7. He added that the author would also prefer going to local eateries over fine-dining restaurants.
Prior to writing the highly successful ASOIAF book series and executive producing the HBO cult hit, Martin was a television show writer. Per The Richest, the author's past television projects include "Beauty and the Beast," "Twilight Zone," "Doorways" and "The Outer Limits."
More Earnings Are Coming

GRRM's net worth is expected to rise in the coming years as he loads himself with publication and television projects. He is currently completing "The Winds of Winter," the highly anticipated sixth novel of ASOIAF series. There is no official release date yet for the sixth book.
Moreover, the bestselling author will also continue to executive produce the two remaining seasons of HBO's GOT series. The seventh season of the massively popular television drama will premiere in summer of 2017.