Jimmy Fallon Celebrates 'Tonight Show' and Fatherhood: 'Never Knew I Could Be This Happy'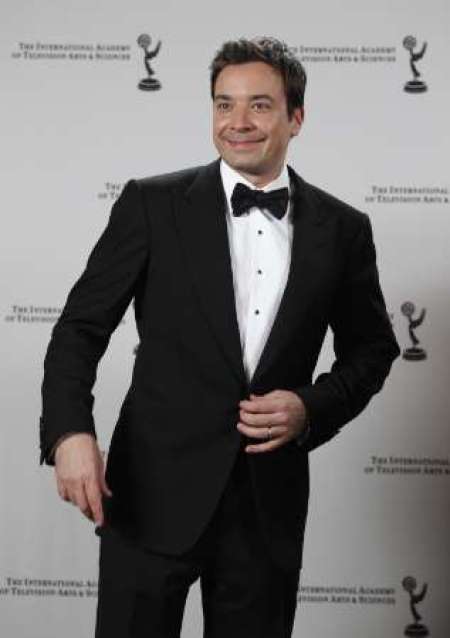 Jimmy Fallon is counting his blessings this year, including his new job hosting "The Tonight Show" and the arrival of his first child.
The 39-year-old television personality took over hosting duties for Jay Leno on the iconic late night show in February. Ever since then, ratings for "The Tonight Show" have shot up 26 percent. Adding to the accomplishments of the past year, Fallon and his wife Nancy welcomed their daughter, Winnie Rose. The couple had struggled with infertility for five years before the arrival of their daughter via a surrogate. Reflecting on all of the changes in his life, Fallon revealed he has never been happier, albeit a bit unrested.
"When you have a baby, sleep is not an option," he said laughingly to People.com. "Even on vacation, you wake up at 6:30 a.m."
The television host is still relishing his new role as both father and the host of "The Tonight Show."
"This has been the craziest year of my life," he said. "But being a father is the most exciting, amazing thing that ever happened to me. And everything's going well on the show. My life has never been this cool."
As Fallon gears up for his first-ever Father's Day after becoming a father himself, the comedian noted that having a child changed his life for the better.
"I didn't think it was going to be this fun," Fallon told People. "But everything just gets heightened when you have a baby. The volume gets turned up on life. I never knew I could be this happy, and that's the truth."
Earlier this week, Fallon made headlines alongside Jennifer Lopez after their "Tight Pants" segment on "The Tonight Show." The late-night host donned a bowl-cut wig, a striped shirt and skin-tight white pants before Lopez, dressed similarly, took the stage beside him while they competed for the tightest white pants title. Watch the funny video here.