Josh Duggar Spotted with a New Job, Joins Family Business of Selling Used Cars
Despite the series of scandals he just went through, it seems like Josh Duggar is happy with his new job.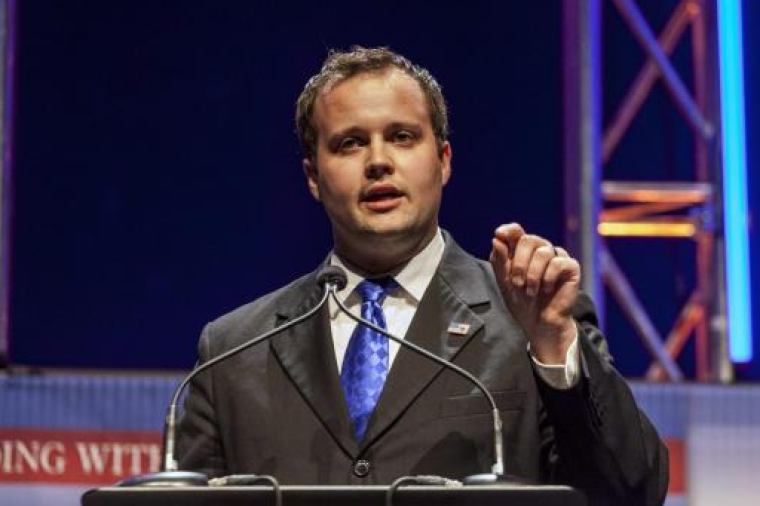 It's been almost a year already since "19 Kids and Counting" star Josh Duggar got involved in a cheating and molestation scandal. Now, after spending some time in a Christian rehab, he is back in the real world but this time in a more low-profile lifestyle. According to a report by People, the 28-year-old reality star returned home to Arkansas and joined in their family business of restoring and selling used cars.
The source shared some photos of Josh trying to sell a camouflage-patterned jeep, which is said to be tagged with an asking price of $16,500 to a potential buyer. And despite the series of scandals he just went through, it can be seen in the photos that he seems happy with his new job.
Josh is also said to be good at what he is doing as he interacts well with people. With that being said, it appears like the people around the residential area really don't care about the issue of Josh.
Inquisitr detailed that the business is an effort of the Duggar siblings. It was featured during one of an episode of "Jill & Jessa: Counting On" reality show, where Jinger Duggar and some of Josh's younger brothers made some money by buying and selling cars. That's probably the reason why Josh is reported to be spending lots of time in the family garage. He is also said to have spent a lot of time at his parents' home.
Josh's life has never been the same ever since his scandal broke out all over news. USA Today noted that he admitted to being addicted to pornography and cheating on his wife, Anna Duggar, including having an account in online affair website Ashley Madison.
He also molested five young girls including his own sisters when he was a teenager. Their show has been canceled since then. As of now, life goes on for Josh and apparently, selling used cars is the best path he has momentarily.