Kate Middleton Baby: Prince William Says Fatherhood is 'Demanding,' Calls Prince George 'Loud'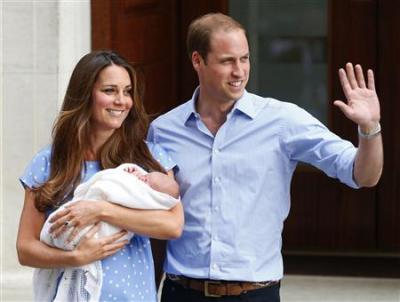 Prince William opened up about baby George, just weeks after his wife, Kate Middleton, gave birth to the newborn.
The new father, 31, shared details about Prince George Alexander Louis during a speech at the Anglesey Show on Wednesday. Middleton, who gave birth on July 22, was not present as she was reportedly caring for the royal couple's newborn who William described as being "lovely" but a handful.
"Catherine is sorry that she cannot be here today at the County Show but she and George would have loved to have been here," William said according to People magazine. "He's pretty loud but of course very good looking!"
Middleton, 31, and the RAF search and rescue pilot have been adjusting to parenthood since baby George was born and insiders claim they are doing well as first time parents. At one point William joked about the intensity of first-time parenting during his speech.
"I have to say that I thought Search and Rescue duties over Snowdonia were physically and mentally demanding, but looking after a three week-old baby is up there!" he joked.
The Duke and Duchess of Cambridge temporarily moved in with Middleton's parents, Carole and Michael, at their Bucklebury estate just one day after Prince George's birth. William noted that the family has had a "few sleepless nights," however the "new addition [is] sleeping much better now."
In recent weeks it was claimed that William had found an effective method to put his newborn son to sleep.
"Prince William is using a bizarre tactic of belting out Coldplay anthems at all hours of the night even though he can barely hold a note," a source told the Daily Star adding that while it is effective for the baby "[The music is] keeping Kate's parents awake."
The Duke reportedly adopted his singing method while the Duchess was still pregnant with baby George. The source claims he would often sing lullabies like "Twinkle, Twinkle Little Star" and "Go To Sleep My Baby" to Middleton's baby bump.