Katie Ledecky Swims Fastest Leg of USA Swim Team; Must-Watch Matches at the Rio Olympics 2016
Ledecky and Phelps Are Likely to Claim Golds From This Year's Olympics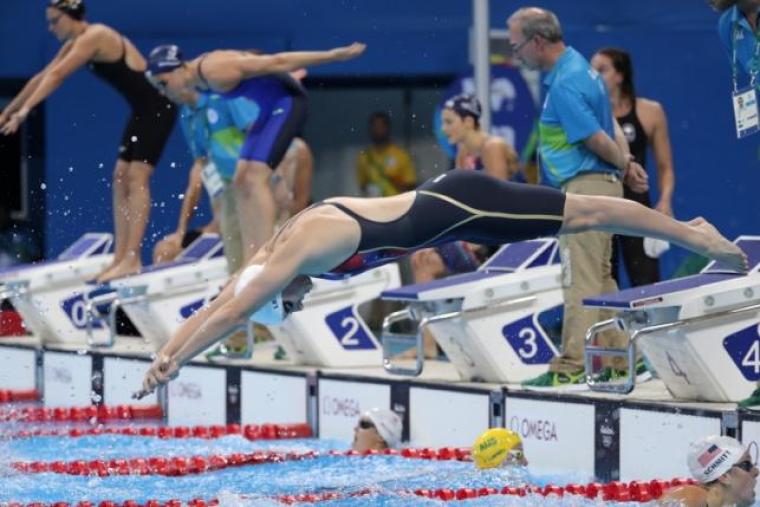 Things are looking great for USA Team's 19-year-old Katie Ledecky after making an impression by swimming the fastest leg for the US team by nearly a full second, making the USA women's 4x100 freestyle relay team finish just 1.20 seconds after gold medalist Australia who finished in 3:30.65.
"I wasn't at all nervous going out, but once I got up on the box I was shaking a little bit," Ledecky said. "It was so much fun to start that way."
Must-Watch Matches at the Rio Games
Swimming - Ledecky will pursue her first individual gold in the women's swimming 400-meter freestyle on August 7 at 10:01 p.m. Meanwhile, Michael Phelps will be swimming at the men's 4x100 freestyle relay final set at 10:54 p.m.
On August 9, Ledecky will pursue for a second individual medal in the women's 200-meter freestyle alongside teammate Missy Franklin. Also, Phelps will compete in the men's 200-meter butterfly against Chad le Clos of South Africa and Laszlo Cseh of Hungary. Meanwhile, Maya Di Rado (USA) will compete in the 200-meter individual medley.
On August 12, Ledecky and Phelps will compete in the 800-meter freestyle and 100-meter butterfly final, respectively.
On August 12, Phelps might have his last appearance on the men's 4x100m medley relay if he decides to retire from the Olympics this year.
For the other games that Olympic enthusiasts must look out for, here are some of the competitions where the US may most likely bring home medals:
Gymnastics - From August 8 to 11, Gymnastics finals for the men's and the women's will take place. The US men and women may get medals; and for the individual competitions, four-time national champion Sam Mikulak and three-time world champion Simone Biles are showing great chances of claiming medals.
Track and Field - Devon Allen finished with the third fastest time at the US trials this year. He and Jamaica's Omar McLeod will race in the men's track and field 110-meter hurdles final on August 16. The US and Jamaica are also likely to duel for gold in the women's 4x100-meter relay on August 19.