Kevin Durant vs Russell Westbrook [POLL]: Who Will Dominate in the 2016-17 NBA Season? Predictions for Warriors Forward and Thunder PG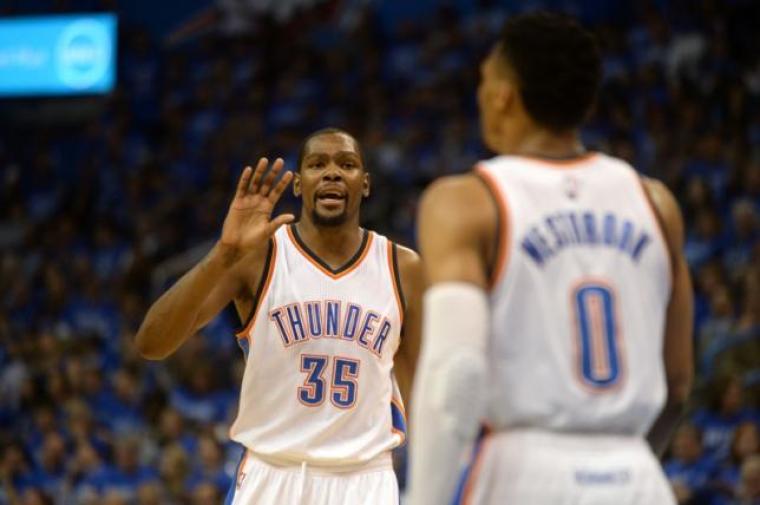 Kevin Durant earned massive backlash after he departed from the Oklahoma City Thunder to join the Golden State Warriors. Russell Westbrook, his former teammate, is among the NBA stars who criticized him for his controversial decision.
From close allies, Durant and Westbrook will turn enemies in the 2016-17 NBA season. They will not only play for two of the strongest teams in the Western Conference, they are also heavily pitted as top contenders for the 2016-17 NBA MVP title. Who will dominate?
Durant vs Westbrook: Predictions

Westbrook has been heavily favored over Durant as the NBA player to win the most coveted MVP title for the 2016-17 season. Last month, CBS Sports reported that the oddsmakers in Las Vegas named Westbrook as the top betting favorites to win the 2016-17 MVP award. Durant ranked fourth with Stephen Curry and LeBron James taking the second and third spots, respectively.
The ESPN Forecast team also gave Westbrook a higher rank than Durant on its early MVP projections. Westbrook ranked second to James in the list while Durant took the third spot.
According to Sean Deveney of Sporting News, the departure of Durant from the Thunder paved way for Westbrook to have a team of his own. He explained that Westbrook proved in the past years that he can be extremely dominant when playing without Durant. With Durant completely gone in the 2016-17 season, Deveney said that the 28-year-old point guard is bound to excel and steal the NBA MVP title.
Stats Comparison
Despite early predictions favoring Westbrook, Durant should not be counted out yet. Given Durant's impressive NBA record, it is very possible that the four-time scoring champion and seven-time All-Star can win the MVP award for the second time.
The 27-year-old forward accumulated an impressive average of 28.2 points, 5.0 assists and 8.2 rebounds last season. He already averaged 27.4 points, 3.7 assists and 7.0 rebounds in his 9-year career in the league. His all-time high record was in the 2013-14 season where he averaged 32 points per game.
On the other hand, Westbrook averaged 23.5 points, 10.4 assists and 7.8 rebounds last season. He garnered an average of 21.5 points, 7.6 assists and 5.6 rebounds in the past eight NBA seasons. His most impressive record was in the 2014-15 season where he averaged 28.1 points per game.
In a recent interview with HBO, Durant said that he is not worried about being hated by Westbrook and the Thunder fans for his controversial free agency move. He said that he is more worried about how he is going to dominate.
Poll

Who will dominate in the 2016-17 NBA season: Durant or Westbrook? Share your thoughts by joining our poll below.