Klay Thompson vs James Harden [POLL]: Jason Terry Says Golden State Warriors Guard is No Match to Houston Rockets Star Player – Do You Agree?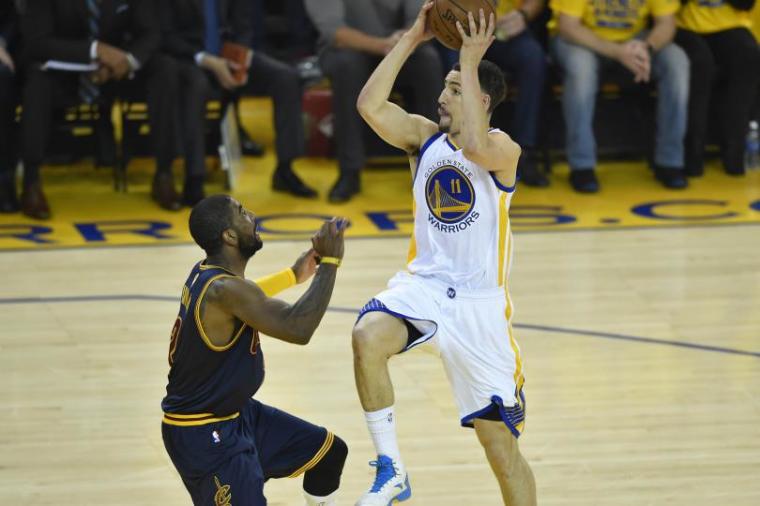 The Klay Thompson-James Harden rivalry for NBA's best shooting guard divided sports analysts and fans in the past seasons. Veteran player James Terry recently reignited the issue after he claimed there is no basis to the notion that the Golden State Warriors shooting guard is better than the Houston Rockets star player.
Thompson is Nothing Compared to Harden
In an interview with SiriusXM NBA Radio, Terry said that there is "no comparison" between Thompson and his former teammate, Harden. The newly-signed guard of the Milwaukee Bucks opined that Thompson would be less effective if he will not make shots.
The 18-year NBA veteran suggested that those who think Thompson is better than Harden should review the Warriors star's performance against the Cleveland Cavaliers last season. He said that LeBron James managed to succeed against Thompson in most encounters. He also added that Thompson would always rely on his teammates, Draymond Green and Andrew Bogut.
Moreover, Terry clarified that he is not a hater of Thompson. In fact, the 39-year-old NBA star believed that Thompson's shooting stoke is better than his teammate and back-to-back MVP Stephen Curry. He said that Thompson is an amazing shooter with a flawless jump shot.
Thompson vs Harden

The Thompson-Harden rivalry intensified last year after the Warriors shooting guard's interview with the Bay Area News Group. Thompson confidently said that he is the best shooting guard in the NBA when asked to name the league's best player at each position.
Harden was apparently not happy with Thompson's assessment. He told Chron that Thompson can talk whatever makes him excited and whatever gives him the confidence to want to talk. He added that at the end of the day, people know what is going on and who deserves the title.
Thompson and Harden both registered their all-time high records last season. Thompson accumulated an impressive average of 22.1 points, 2.1 assists and 3.8 rebounds per game. The 26-year-old star guard already averaged 18.4 points, 2.3 assists and 3.3 rebounds in the past five seasons of his NBA career.
Moreover, Harden did better than Thompson last season after he averaged 9.0 points, 7.5 assists and 6.1 rebounds per game. The 27-year-old shooting guard recorded an average of 21.1 points, 4.9 assists and 4.6 rebounds in his 7-year NBA career.
Poll

Do you agree with Terry's claim that there is no comparison between Thompson and Harden? Who is the best shooting guard in the league? Share your thoughts by joining our poll below.